Collective Worship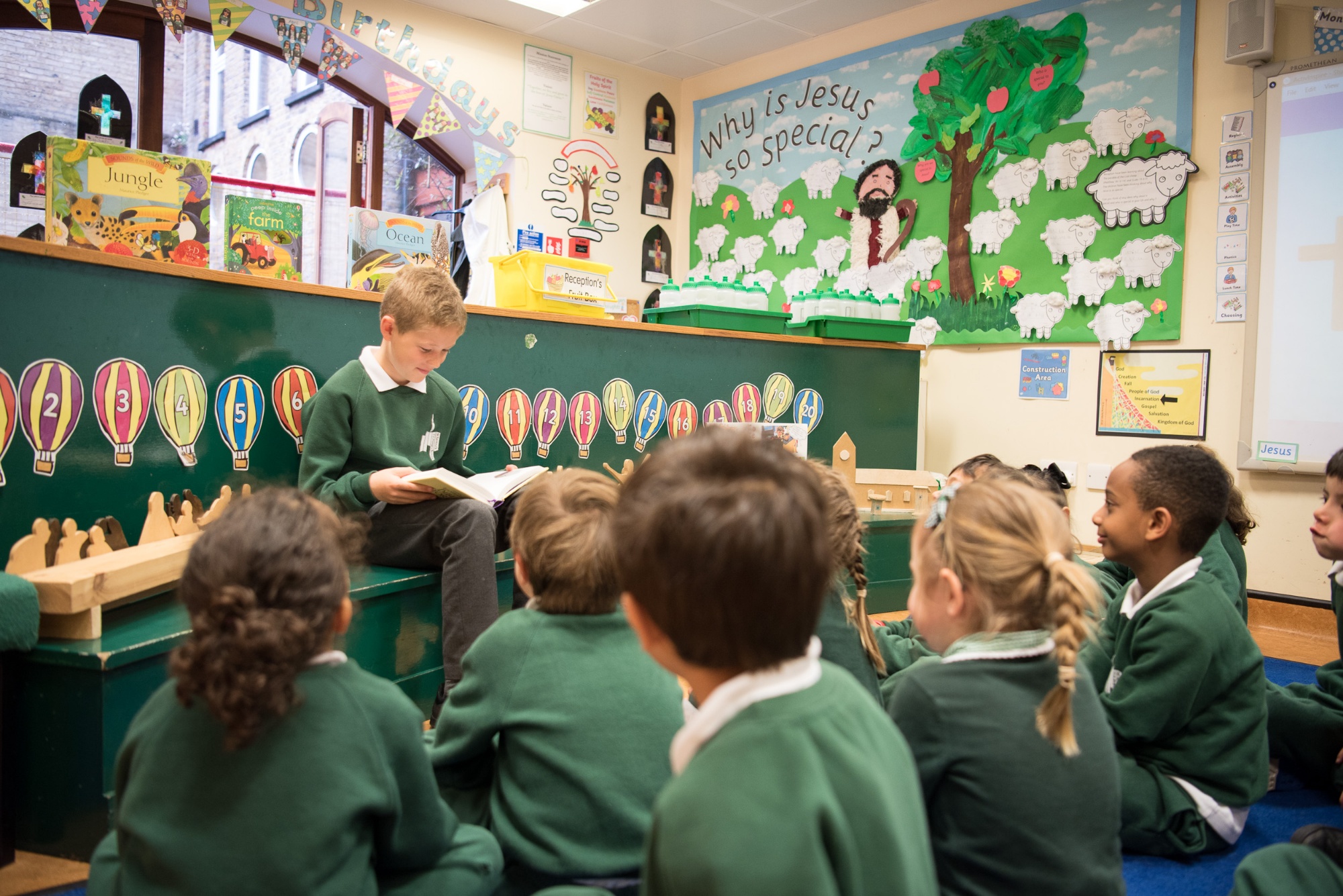 The daily act of Collective Worship at St Saviour's follows the requirements of the 1988 Education Reform Act. At St Saviour's, daily Collective Worship implies the recognition of a Deity and may be school or class based.
Aims
To consider spiritual and moral issues which are of a wholly or mainly of a Christian character.
To celebrate or reflect on things that are of worth.
To facilitate the development of a sense of community, of belonging and of sharing.
To encourage pupils to learn how to be part of large and small gatherings.
To celebrate achievements of others within the school community.
To develop understanding of, and reflect upon the value of, our environment and its importance in our lives.
Pattern and location of the daily Act of Worship
| | | | | |
| --- | --- | --- | --- | --- |
| Monday | 2.45pm | Value of the Week | Church | Class Teacher / Priest / Headteacher |
| Tuesday | 9am | Faith | Hall | Visiting Baptist Minister / Headteacher in rota |
| Wednesday | 9am | Class Worship | Classrooms | Children supported by Class Teacher |
| Wednesday | 2.30pm | Hymn Practice | Hall | Music Leader |
| Thursday | 9am | Our World | Hall | Deputy Headteacher |
| Friday | 9am | Celebration | Hall | Headteacher |
We aim to celebrate both the differences and similarities between our religion and that of others. Children are taught to respect and value other people, regardless of Faith. This is a fundamental principle within our school and one, which can be found throughout the major religions of the world. For this reason, we find that our worship is acceptable to all the religious traditions represented by St Saviour's CE Primary School. All children attend the daily Act of Worship and receive a Blessing or Communion in church.
Content
It is a requirement that acts of worship are to be "wholly or mainly of a broadly Christian character".
There will be times when other Faiths and religious traditions will be explored.
Issues will be presented in a variety of ways through stories, poems, songs, role-play, artefacts, radio broadcasts, visitors, power-point presentations, interactive whiteboard activities as well as the sharing of children's and adult's achievements.
Children will be involved in the opportunity to worship through prayers, hymns and songs, participation in role play and through quiet reflection.
Themes and festivals for Collective Worship will be linked to the R.E planning. There is also a need for flexibility in order to respond to national and unexpected events where appropriate.
Class Worship on Wednesdays is usually themed around the Fruit of the Spirit (Value) of the Half Term.
Parents have a right to withdraw their pupils from all or parts of the acts of worship. However, the class teachers and/or Headteacher should discuss the matter sensitively with any parent who wishes to exercise their right to withdraw their child.
Administration and disciplinary matters will, as far as possible, be separated from the act of Collective Worship.
Both the Headteacher and the R.E Leader will ensure records and resources are maintained and monitor contents and quality of acts of Collective Worship.