Curriculum Overview
Reading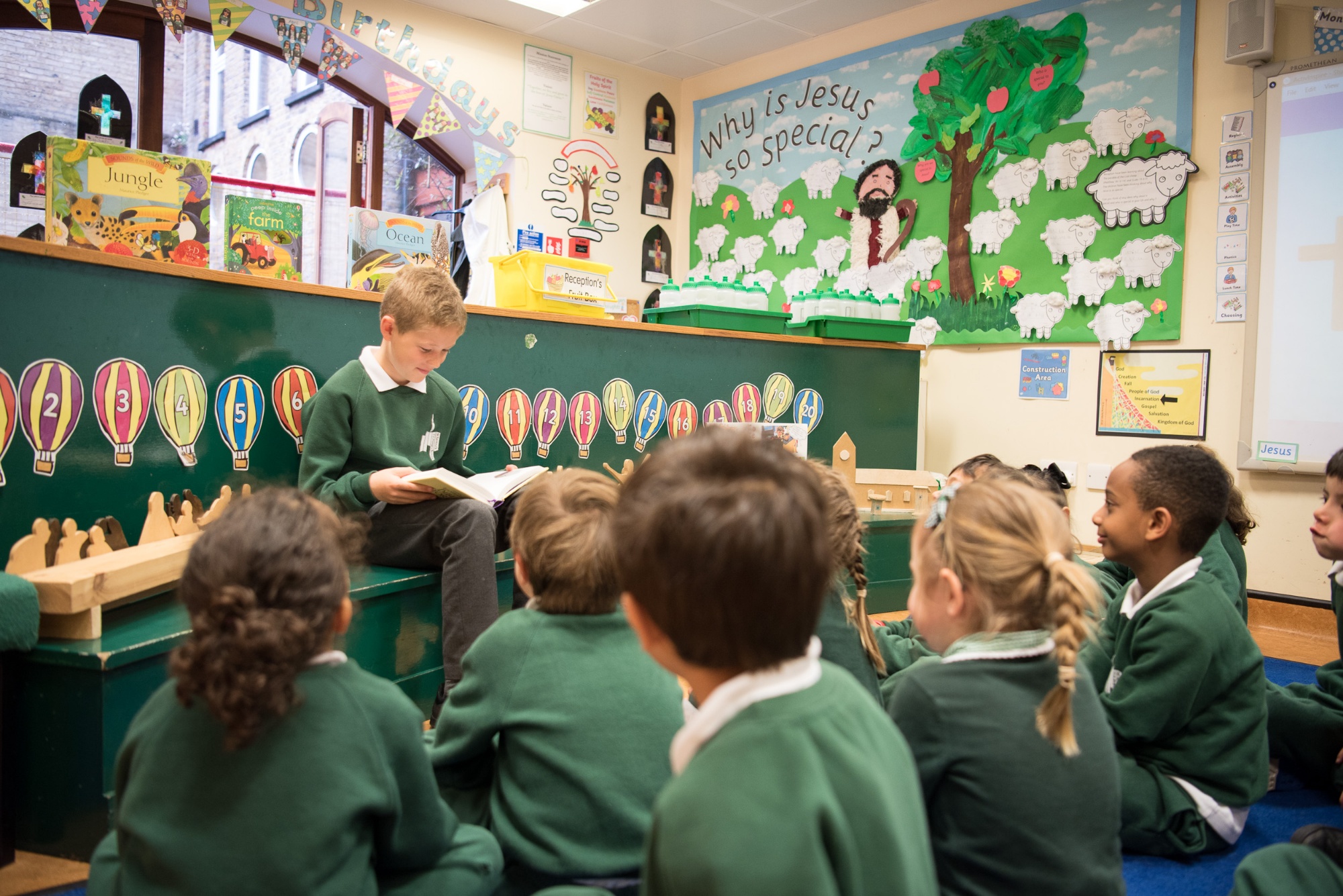 At St Saviour's we encourage children to fall in love with reading. We want them to develop a positive attitude towards reading and recognise that it is an important life skill. We hope that children value reading as an enjoyable activity but also understand that they can read for information.
Initially we teach reading through phonics. At St. Saviour's we follow the government programme 'Letters and Sounds' for teaching phonics and in Foundation Stage we use Jolly Phonics to support the government programme. Children are taught to split words into sounds (segment) and put sounds together to make words (blend). In Foundation Stage and Year One, children are taught phonics four times a week. In Year Two, children are taught once a week. In Key Stage Two, children who need extra support are taught individually or in intervention groups. Our phonics lessons follow the same structure across the school, and this structure is also used to teach spelling rules from Year Two upwards. We also teach 'tricky' words which are not phonetically plausible within phonics lessons. Children are encouraged to use their phonetic knowledge and understanding in reading and writing. We find that the children are more confident at using a range of engaging vocabulary in their writing thanks to their phonetic skills, knowledge and understanding.
Beyond phonics, one of the main ways we teach reading is through guided reading. The children have the opportunity to read a wide variety of texts in small groups and explore them in detail. This is done with adults and then as they grow in independence we encourage the children to lead the groups, with an adult present, asking each other probing questions around the text. Children are taught according to their individual needs and we have a wide variety of texts, fiction and nonfiction for this.
The teaching of reading also filters into many other areas of learning and is taught in a wide variety of contexts. For example, children read for information in topic-based lessons. We have recently developed our classroom libraries and invested in some new books, which were chosen by the children. There are up to date engaging books in all classrooms which the children enjoy reading.
Writing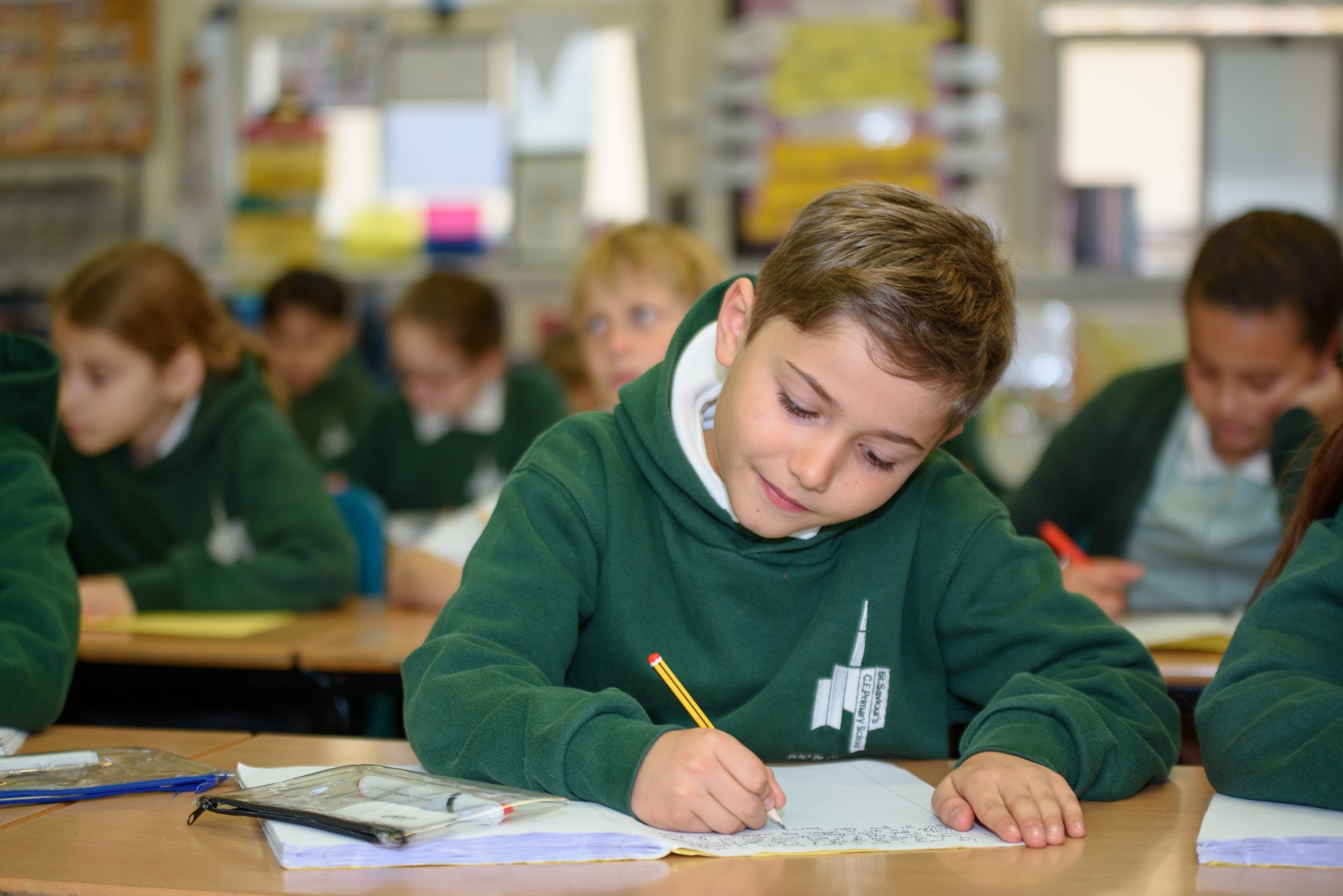 At St Saviour's we aim for all children to become proficient writers with sound grammatical knowledge and a rich imagination. We believe the children should have the opportunity to practise and develop their writing skills from a starting point they enjoy. Teachers often use topics and themes which are tailored to their children's interests.
The teaching of writing starts in the Early Years setting with mark making. The children are taught the correct pencil grip and explore making marks in a range of media such as paint, sand and shaving foam. There is continuous provision for mark making in the Early Years setting.
There is a high focus on the correct letter formation in Reception and this is key for their cursive writing later in their school life.
As children develop through the school they are given opportunities to practise and improve their writing in many different contexts. Throughout their time at St Saviour's children receive ample opportunity to write in a range of genres such as stories, information reports, instructions, myths and legends and newspaper reports. The formal teaching of writing begins at word and sentence level and builds to structuring an extended piece of writing.
We recognise that writing is a complicated process and therefore, in order for children to succeed, our planning provides a range of scaffolds to support their success. These scaffolds include; talk for writing, drama and role play, embedded ICT, writing for a range of purposes and audiences, explicit grammar teaching in context, exposure to high quality texts, visual and language scaffolds as well as the systematic teaching of spelling and handwriting.
Mathematics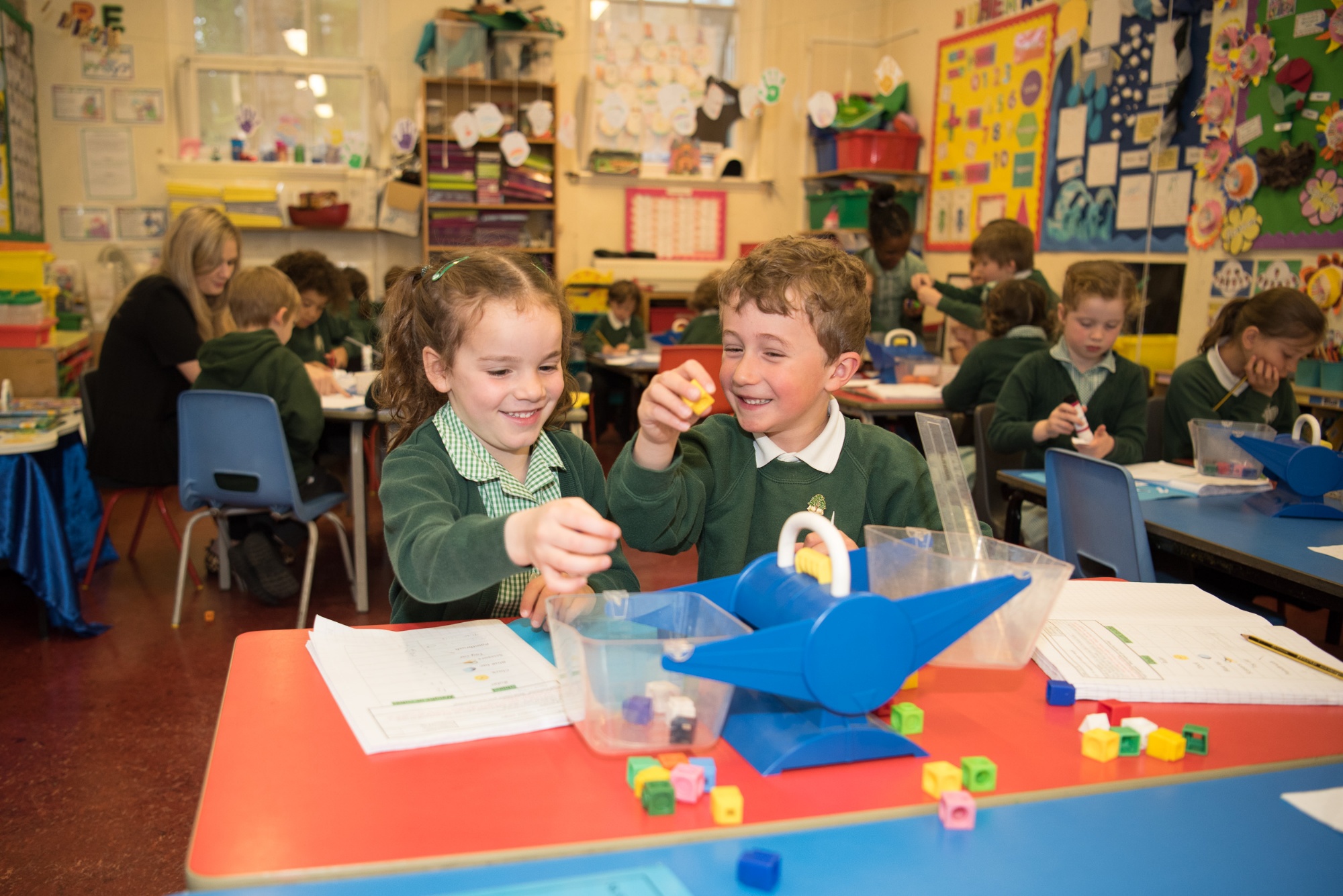 Mathematics is an integral part of everyday life, both in terms of concepts and thinking skills involved. Children will find in Maths the skills needed to make sense of the world, see patterns and structure and be able to analyse data and the results of experiments.
Maths is taught for an hour every day and the lesson is comprised of a short, fast mental starter and leads onto the main teaching point. During each term, pupils cover the four main strands of Mathematics which are:
Number
Measurement
Geometry
Statistics
At St. Saviour's, we aim to develop both an enjoyment and a fascination for mathematics through an appreciation of the basic structure of the subject. As a result, children are able to cope confidently with everyday problems in life. Children are encouraged to become both independent and co-operative learners and have the confidence to creatively tackle all types of mathematical tasks. Opportunities are given for children to undertake investigations and problem solving activities as part of their maths curriculum. Children regularly take home Maths homework activities which reinforce and consolidate class based work.
We recognise the importance of times table knowledge in the development of mental strategies within children's learning. To encourage these skills, we practise times tables each week, and in upper Key stage 2, division knowledge is tested.
There are many ways to help children at home with Maths. Try to make maths as much fun as possible – games, puzzles and jigsaws are a great way to start. Talk about Maths at home and place into real-life contexts:
Take children shopping and talk about the quantities and cost of anything bought.
Point out the different shapes and containers found around the home.
Look together for numbers on street signs and car registration plates, notice patterns.
Tell the time, look at timetables/calendars and discuss duration of different events.
All children benefit from positive, enthusiastic attitudes towards their learning and Maths is a great subject to better prepare our children for the future.
Religious Education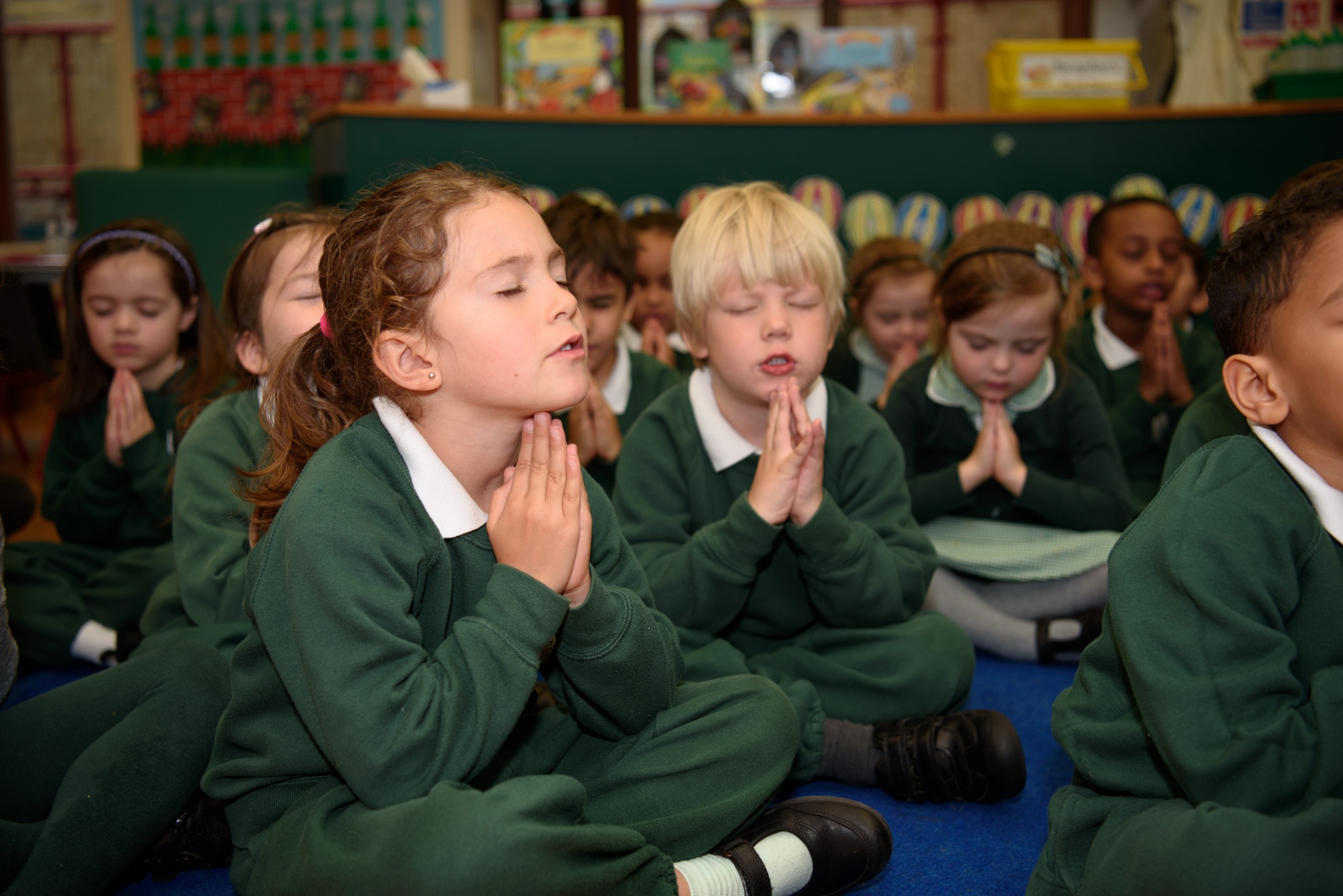 Aims
Religious Education at St. Saviour's enables all children to explore religious beliefs and practises, some of which are located in the local community. Pupils will be encouraged to explore the fundamental questions of life raised by human experiences. Pupils will extend their thinking and analytical skills and their creative, imaginative and emotional development.
Religious Education will foster mutual understanding between students of differing religious and cultural backgrounds. Pupils will be encouraged to develop a reflective approach to life in an atmosphere of openness, exploration and enquiry. Pupils will be encouraged to respect the differences and help in the promotion of a harmonious society.
Supporting these Aims is our Vision 'Together we live and grow in the love of Jesus Christ.' This Vision is at the heart of everything we do at St. Saviour's and enables the children to be successful learners and caring individuals. To support our Vision, we use Galatians 5: 22-23 'The Fruit of the Spirit' to allow the children to understand how they can live and grow in the love of Jesus Christ.
Content
In accordance with the Statement of Entitlement Document written by the Church of England (2016) we ensure the following:
Children will study a two-third Christianity and one-third World Faiths curriculum in KS1 and KS2. The World Faiths include; Judaism, Buddhism, Islam, Sikhism, Hinduism and Local Faiths in our Community. In EYFS, the children will study a Christianity based curriculum.
Children will have the opportunities to learn about religion from a variety of resources.
Children will have opportunities to explore their own response to profound human experiences and universal symbols.
Children will be encouraged to respond freely to experiences and questions which have a profound or puzzling quality and to use a range of different forms of expression to convey their responses.
R.E. encompasses at least 1 hour 30 minutes per week across the school. This includes weekly R.E. lessons, weekly Mass, assemblies, themed days and the work of our RE Ambassador team.
Father Bradley is closely involved in the planning of all aspects of worship.
Please click here to view our RE Curriculum Overview for 2019/2020.
Approaches
St Saviour's CE Primary School follows the revised London Diocese Board for Schools (LDBS) scheme (2017). This is taught throughout the school from Nursery to Year Six. In all year groups (EYFS, KS1 and KS2) we also use Godly Play.
R.E is approached through stories, cross curricular themes, R.E topics, festivals and whole school topics, discussion on specific ideas and spontaneous enquiries.
To enable the vision statement to be a focal point in our daily lives, it is displayed under the hall figure of Jesus Christ, it is displayed in every classroom on the RE table, incorporated into the hall entrance display and is printed on the front cover of every exercise book. It is also recited everyday, after grace has been said.
We use the Fruit of the Spirit 'values' as a focus every half term within weekly class worship and whole school collective worship. In addition, we celebrate and discuss each value during an afternoon of focussed activities for that particular value. We share our understanding of the Fruit of the Spirit with a display in our school entrance, with evidence of work completed by all year groups.
All staff will be given opportunities to attend training and CPD as well as exploring and developing their own Faith. The school subscribes to the training offered by the LDBS and other religious bodies.
Teachers can be given the opportunities to observe R.E lessons in other Faith schools.
Methods
Teaching methods are stimulating and engaging, providing all students with access to religious education. Consideration is paid to different learning styles and the differing abilities of children so that all pupils make progress in their learning. A range of teaching and learning strategies which are effective for inclusive teaching of Religious Education include:
Weekly Mass Service
Daily assemblies
Class Worship (usually on Wednesdays)
Weekly R.E lessons
Weekly circle time-Friday 1.15-1.45
Nursery use Key Worker groups for religious discussions and reflection time
Visits to places of worship, museums or art galleries
R.E. Ambassadors from Y1-6 who discuss R.E. topics and events
The use of representatives from religious traditions as visitors to the class e.g. on World Faiths Day
The use of artefacts, big books, posters, videos, artwork
The use of picture or word cards for matching, classifying, prioritising, sequencing, etc
The use of art and craft to enable students to express their ideas
The use of drama, role play, gesture or dance through Godly Play
The use of music to create an atmosphere or for expression of ideas and emotions
The use of information and communication technology, such as digital cameras, interactive whiteboards, websites, etc.
Inclusion
All pupils will be given equal opportunities to access this area of the curriculum, R.E is a statutory subject and therefore all children must attend R.E lessons.
Lessons are planned and implemented with the intent to teach pupils to learn about (AT1) and learn from religion (AT2). The school ensures teachers are not discriminative towards children of other faiths and instead sees this as a learning opportunity.
If any parent is concerned over a particular topic, they are encouraged to discuss the matter with the Head teacher and or Subject Leader. These discussions are always handled sensitively.
As with all subjects, teachers must ensure they cater for the needs of individual pupils. Teachers are responsible for the progress and attainment of all groups (e.g. SEN, EAL, FSM, Disabled pupils and all ethnic groups) in addition to this teachers must be aware of the variety of different religions within the class, to ensure all peer to peer learning opportunities are exploited and pupils views are handled in a sensitive manner. Our SENCo attends regularly LDBS and Local Authority Network meetings where provision across subjects such as RE for children with additional needs is discussed. This information is shared with all staff following these meetings through meetings or INSET training.
Religious Core Concepts
As recommended by the LDBS through their CPD and Curriculum, we encourage the children to think about their learning (within the Christian faith) through big questions and core concepts, which are:
| | |
| --- | --- |
| God | Fundamental to Christian belief is the existence of God, Father, Son and Holy Spirit. |
| Creation | The universe and human life are God's good creation. Humans are made in the image of God. |
| Fall | Humans have a tendency to go their own way rather than keep their place in relation to their Creator. This attitude is called sin, and Genesis 3 gives an account of this rebellion, popularly called 'the Fall'. This describes a catastrophic separation between God and humans, between humans and each other, and between humans and the environment. This idea that humans are 'fallen' and in need of rescue (or salvation) sets out the root cause of many problems for humanity. |
| People of God | The Old Testament tells the story of God's plan to reverse the impact of the Fall, to save humanity. It involves choosing a people who will model a restored relationship with God, who will attract all other people back to God. The Bible narrative includes the ups and downs of this plan, including the message of the prophets,5 who tried to persuade people to stick with God. The plan appears to end in failure with the people of God exiled, and then returning, awaiting a 'messiah' — the anointed one/the chosen one. |
| Incarnation | The New Testament presents Jesus as the answer: the Messiah and Saviour, who will repair the effects of sin and the Fall and offer a way for humans to be at one with God again. Incarnation means that Jesus is God in the flesh, and that, in Jesus, God came to live among humans. |
| Gospel | Jesus' incarnation is 'good news' for all people. ('Gospel' means 'good news'.) His life, teaching and ministry embody what it is like to be one of the people of God, what it means to live in relationship with God. Jesus' example and teaching emphasise loving one's neighbour — particularly the weak and vulnerable — as part of loving God. |
| Salvation | Jesus' death and resurrection effect the rescue or salvation of humans. He opens the way back to God. Through Jesus, sin is dealt with, forgiveness offered, and the relationship between God and humans is restored. |
| Kingdom of God | This does not mean that no one sins anymore! The Bible talks in terms of God's 'Kingdom' having begun in human hearts through Jesus. The idea of the 'Kingdom of God' reflects God's ideal for human life in the world — a vision of life lived in the way God intended for human beings. Christians look forward to a time when God's rule is fulfilled at some future point, in a restored, transformed heaven and earth. Meanwhile, they seek to live this attractive life as in God's Kingdom, following Jesus' example, inspired and empowered by God's Spirit. |
The children discuss within their lessons which core concept(s) may be a focus of the lesson when learning through the lessons' key question.
Science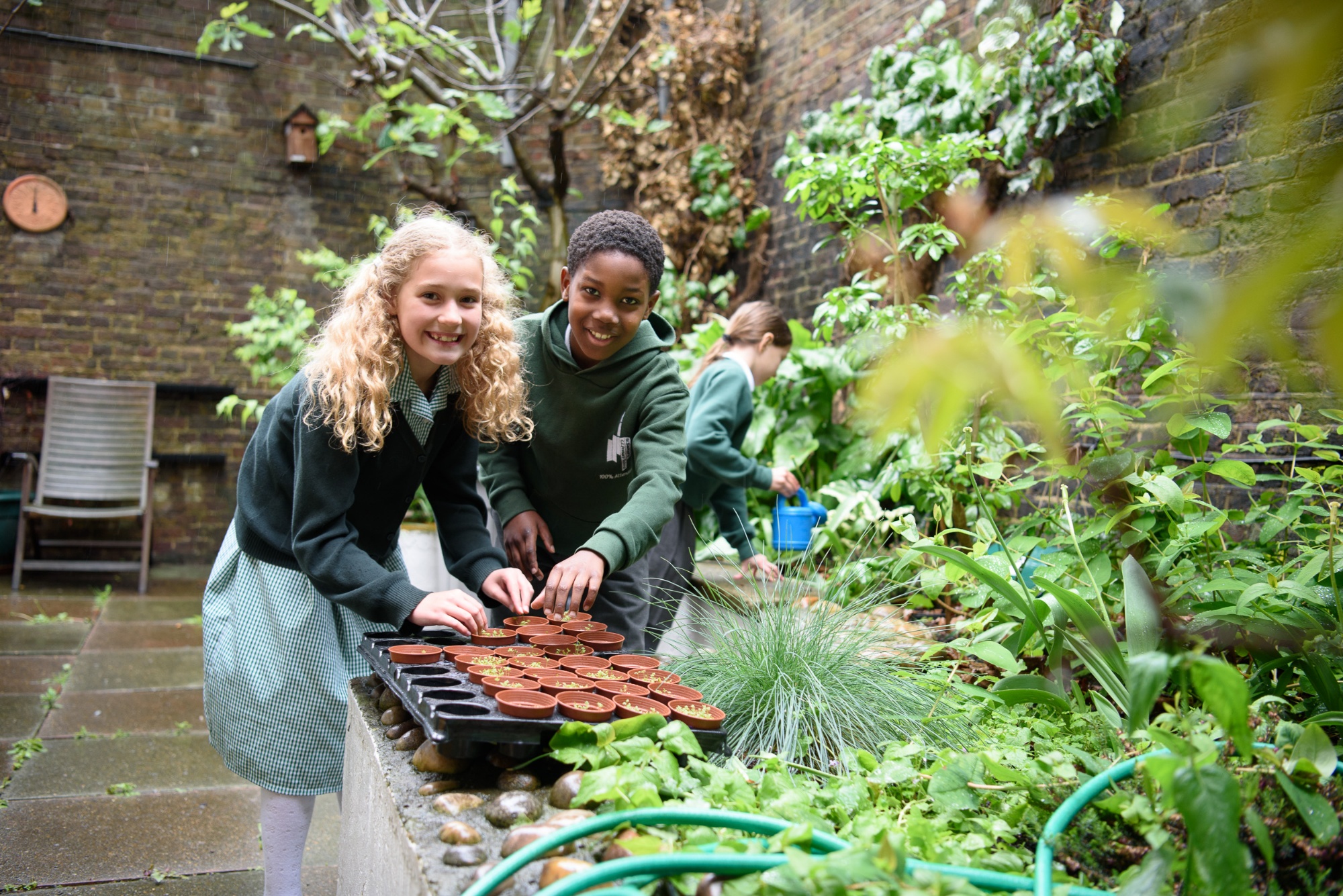 As a church school in an ever-changing world, we have a responsibility not only to educate our children in the traditional subjects, but to broaden their minds and build their confidence so that they become independent, inquisitive and reflective learners.
For children, Science is a subject that provides a tangible link to learning and the evolving world around them. Our aim is to equip them with the scientific knowledge required to understand the uses and implications of science today and for the future.
Our aim is to deliver a high-quality science education that provides the foundations for understanding the world through the specific disciplines of biology, chemistry and physics. They are encouraged to understand how Science can be used to explain what is occurring, predict how things will behave, and analyse causes. During our weekly science lessons, we focus on specific skills in order to develop their ability to think scientifically. All children are encouraged to develop skills by observing, planning and investigating. Specific scientific vocabulary for topics is taught and questioning scientific concepts is encouraged. We hope, that through our teaching, all of our children will develop enthusiasm and lifelong love for Science.
Computing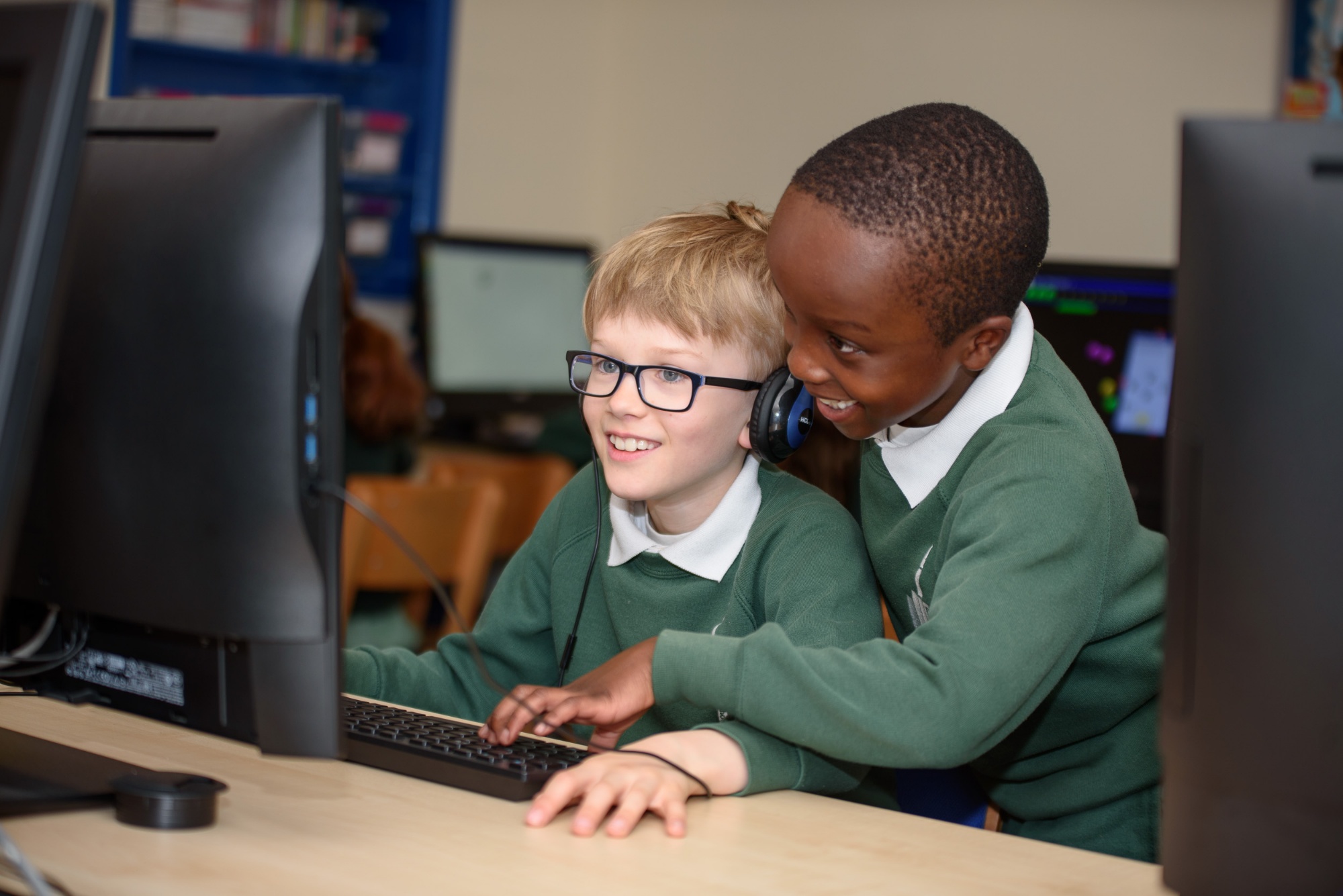 This year, St Saviour's saw the opening of our brand new Computing Suite, which will now enable each class to embed IT fully within all areas of the curriculum.
Computers are now part of everyday life. For most of us, technology is essential to our lives, at home and at work. The new national curriculum for computing has been developed to equip young people in England with the foundational skills, knowledge and understanding of computing they will need for the rest of their lives.
At St Saviour's, each child has one hour of Computing a week, with an additional 30 minute lesson every other week. During these lessons, children have access to a range of software programs and applications to help learn a range of important skills.
Online Safety is also an incredibly important area of Computing that is discussed with all children across the Key Stages. Children are taught how to recognise suspicious or inappropriate content when using applications or working online. They are taught who they need to inform if something concerns them and also how to close a program and turn the monitor off. Children are also taught how to search for content online safely, using carefully selected sites with appropriate filters.
Year Six Tech Team
Each year, we will have five Tech Team members that will represent computing across the school. They will meet once a week with Miss Lorimer or Miss Cornelius to discuss how IT is being used in the school. We will have meetings about current apps as well as create digital material to promote recent school events.
Art, Music, Drama and Dance
Music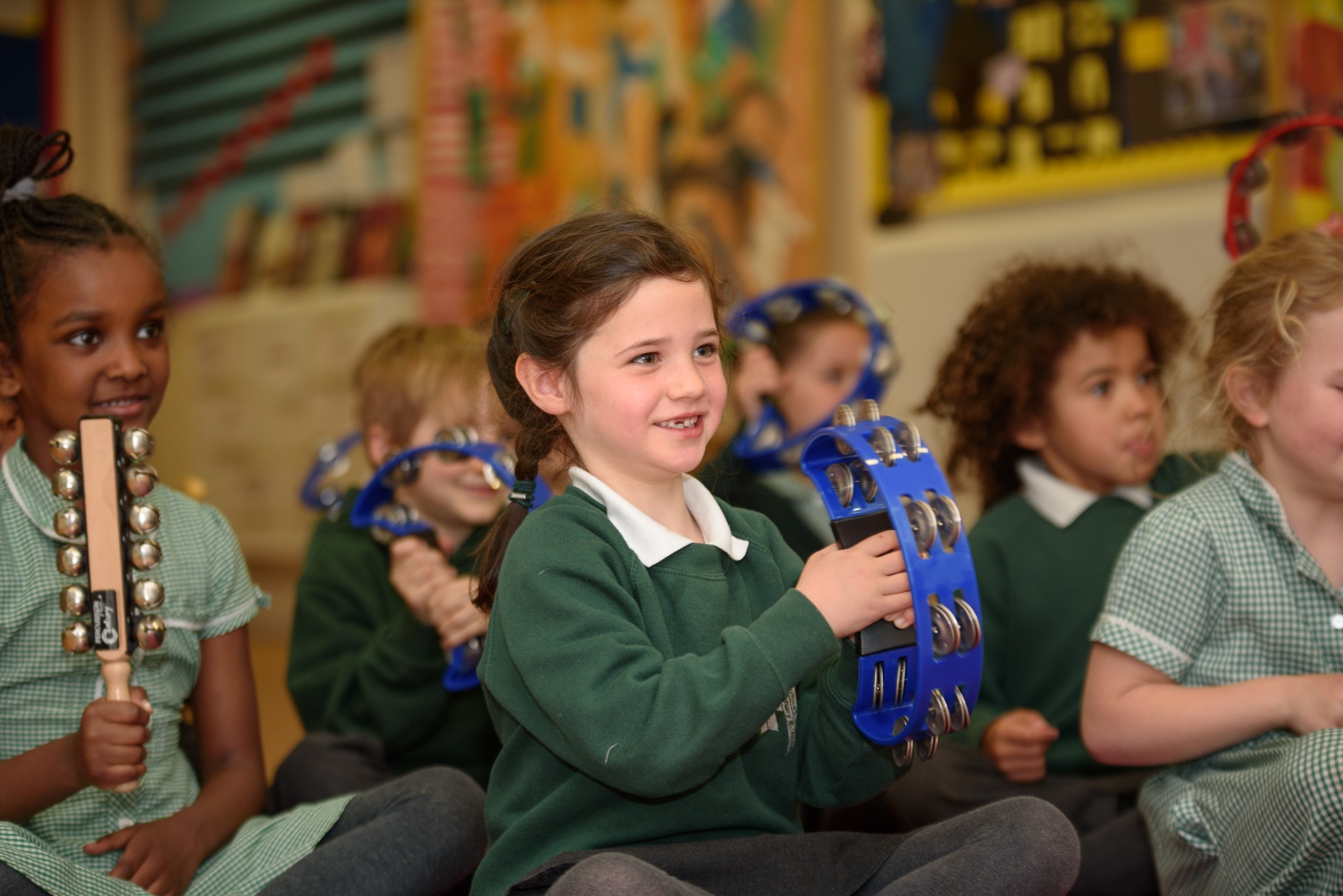 Music lessons are taught by the amazing Miss Hodgson who has transformed singing and the study of Music over the last seven years. Each class receives a weekly lesson with her and learn valuable skills in composition, singing and the use of percussion instruments as well as developing an appreciation of classical musical genres and composers.
Early Years and KS1 children focus on developing rhythm and pitch as well as an ability to play percussion instruments with care and accuracy. There is a strong focus on singing and encouraging the children to build their own song bank which includes Nursery Rhymes and simple well known children's favourites.
In KS2 the children continue to develop their singing as well as beginning to learn to play as an ensemble. In Year 3 the children learn patterns and rhythms on the claves before moving to African Drumming. Year Four learn to play the recorder and Year Six learn to play as a class Samba Band.
Every Music lesson begins with listening; the children are taught how to appreciate and interpret a piece or extract of classical music from a range of musical periods. The children use Classical100 (a bank of 100 well loved pieces created by Classic fm) to help explore, discover and listen to music – and ultimately to develop their own personal interests, tastes and opinions. The 100 pieces embrace a rich diversity of styles ranging over ten centuries, from Hildegard of Bingen to Graham Fitkin, via Bach, Beethoven, Brahms, Mozart, Tchaikovsky and more.
Our school is proud to be a Sing Up school. Sing Up is an organisation which promotes singing in primary schools and offers the children access to a repertoire of over 800 songs whilst at school. We sing many of these songs in assemblies, in classrooms and as part of their Music progression from Nursery to Year 6. Quite often Sing Up songs are performed at special events such as our Termly Mass services, but are also integrated in to everyday life at school including playtimes! We are delighted to be working towards our Sing Up GOLD Award.
Children enjoy regular opportunities to perform throughout the school year culminating in the impressive summer term's 'Expressive Arts Concert' staged in the church.
There is a 40 strong School Choir who sing each week at Mass as well as at various concerts and events throughout the year. The children most recently took part in a wonderful performance at the Royal College of Music singing original repertoire written by the composer Sally Greaves and have even had pieces written especially for them to sing.
We're proud to boast that a number of our Gifted and Talented (G&T) singers are members of the Tri-Borough Hub's Young Singers choir who perform regularly at prestigious locations such as the Albert Hall, The Coliseum and Wigmore Hall.
Our Wonderful Choir – True Community Ambassadors!
As part of The Lord Mayor of Westminster, Cllr The Lady Flight's 'Silver Sunday' project, the School Choir visited Leonora House to sing and mingle with residents and friends. They gave a fabulous performance of their favourite songs for well over half an hour, led a sing-a-long with the residents joining in and then enjoyed refreshments with their new found friends.
Miss Hodgson reported it was a magical and very moving time and admitted to shedding a few tears with how memorable it all was. We couldn't be prouder of our children especially when so many people congratulated them on their amazing behaviour and great manners.
Thank you also to Mrs. Barbara Schmelling (one of our wonderful Governors who is also a former St. Saviour's parent) and Miss Parris (our talented school pianist) for helping make this visit possible. We are also grateful to Cllr Barbara Arzymanow (Ward Member for Little Venice) who helped arrange the event.
Drama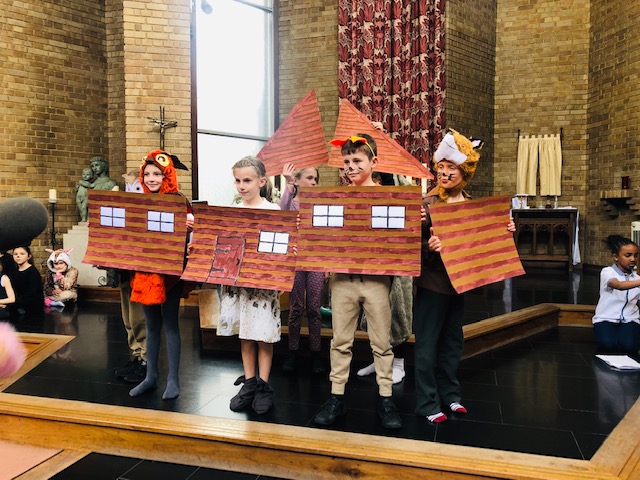 Each term, every class has a topic themed drama workshop led by Miss. Hodgson.
Sessions link with the work that the children are learning in class; history, geography, literacy or R.E., exploring, consolidating and deepening their understanding through drama techniques and games.
The children are encouraged to empathise with characters or situations through the use of strategies such as hot seating, conscience alley, freeze frames and tableaus, Greek chorus, talking statues, improvisation, thought tracker and role play.
KS2 children begin to develop their scripting skills as they start to develop their knowledge and understanding of dialogue and stage directions.
In the past the children have explored: Heroes of Troy, Tales of Anancy, The Great Fire of London, Stone Age Fireside Stories, Astronauts in Space, Florence Nightingale and the Crimean War, Brazilian Folktales, The Gingerbread Man, Goldilocks and the Three Bears, Midsummer Night's Dream and The Jabberwocky.
Art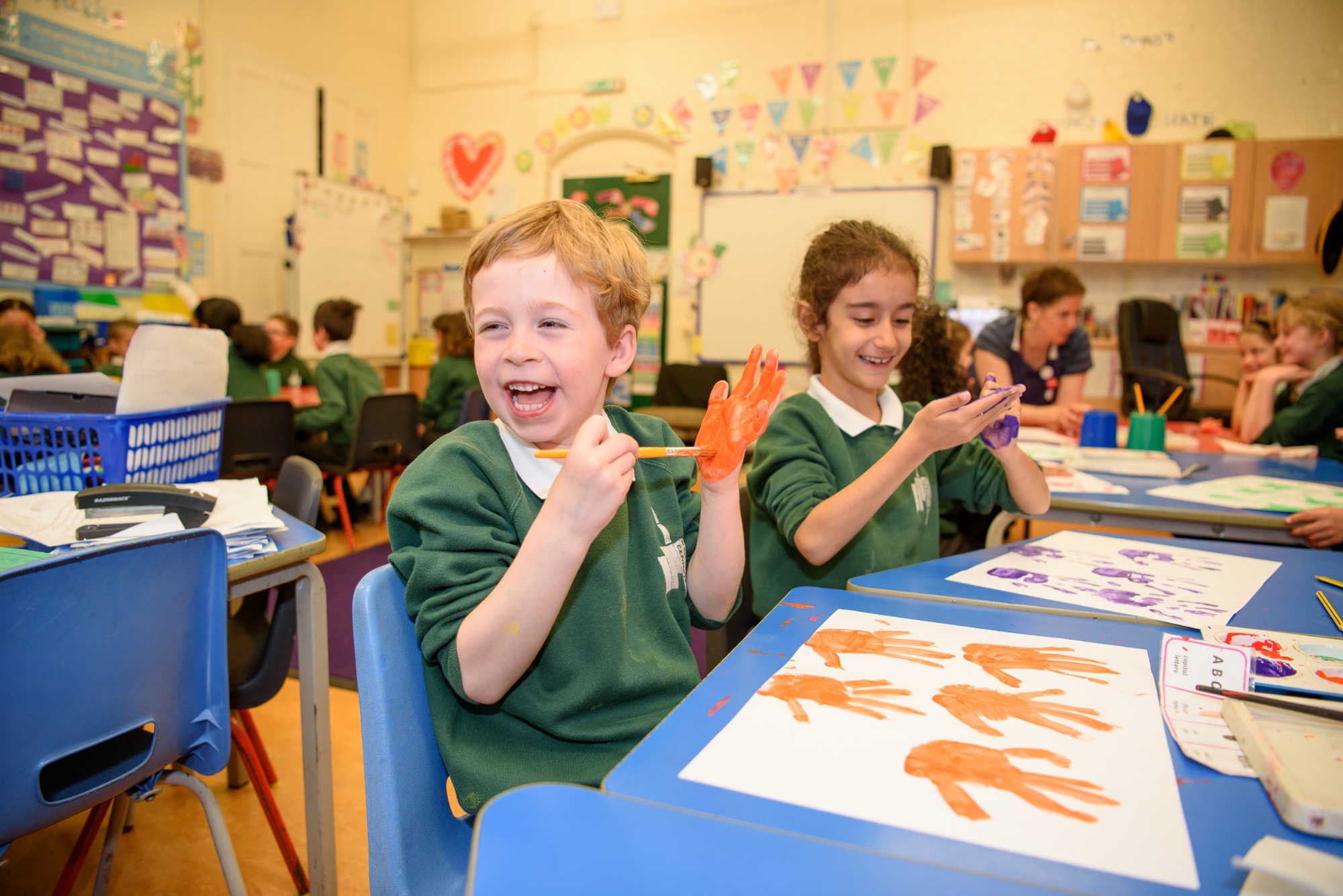 Children receive specialist Art and Design lessons throughout the year and the G&T children enjoy the opportunities of experiencing high level art and design activities like our Anthony Gormley project which resulted in the four live-sized maquettes which now hang proudly on the front of the school building.
Spanish
Our aim is to give each child a solid foundation in Spanish, ready for further study in their future Secondary School. Children from Year One to Year Six take part in a weekly Spanish lesson, with further consolidation of ideas and vocabulary at opportune moments during the week.
Spanish is taught in a fun and engaging way, focusing on vocabulary and conversational language. The use of ICT, peer conversation partners and games ensure these lessons are motivating and accessible to all.
Each week one child in the school will receive the Linguist of the Week award. This celebrates the achievements and efforts of a particular child in relation to their Spanish learning.
Physical Education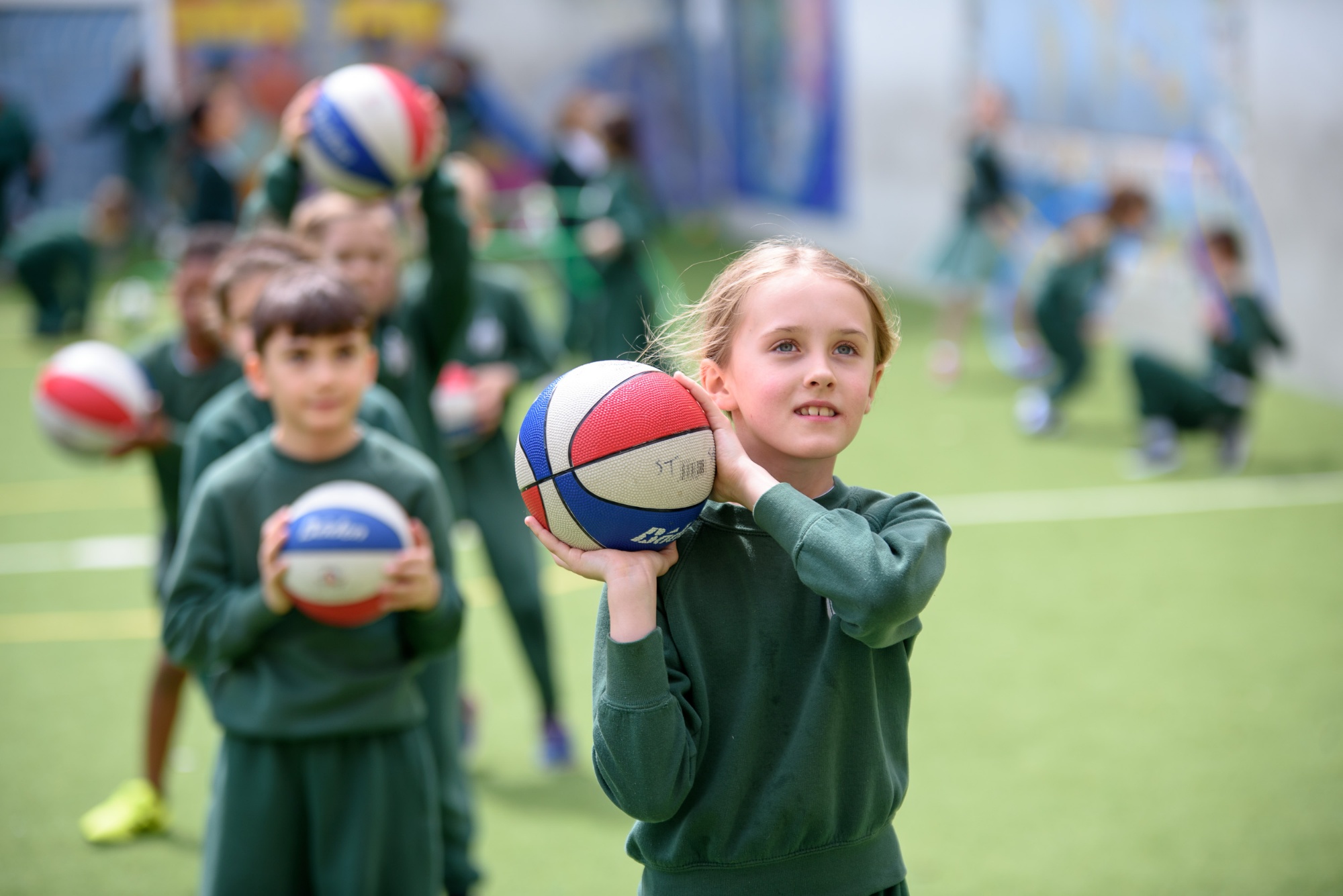 At St. Saviour's, Tuesdays, Wednesdays and Thursdays are our special days for exercise and physical education. The children have lessons in many different aspects of PE and sports, these being delivered by our PE Coach, Coach Jamie.
As well as the standard PE curriculum, the children are given the opportunity to participate and represent the school throughout a range of sporting competitions including Football, Tennis, Tag Rugby, Athletics, Cross Country and Basketball. We are proud of the many successes that our teams have achieved; the trophies in the entrance hall are a perfect testament to this. In addition some of our pupils have also gone on to represent Westminster at a regional level at the London Youth Games, a fabulous accolade for St Saviours.
In KS1 we focus on enjoyment and fun, as well as developing their A, B, and Cs; agility, balance and co-ordination. Safety and spatial awareness are other aspects of the lessons spent with Coach Jamie, allowing the children the essential time to explore and realise their own movement pattern and early potential.
As the children progress into KS2, they take part in a wide range of activities, from individual sports to competitive team games. We pay special attention to developing gross motor skills, with focus on understanding the importance of teamwork and good sportsmanship. At this level the children are introduced to the significance of good nutrition and the benefit a healthy diet has in all aspects of their school life.
Both KS1 and KS2 have extra G&T sessions to challenge and stretch those children who excel in physical activities. They are encouraged to push themselves in order test their true potential as well as refine their specialist sporting skills.
After school clubs take place for years 1 & 2 "All Sports" as well as years 3-6 Football clubs. All children are encouraged to participate and enjoy these extra sporting curricular activities to the fullest.