Curriculum Overview
Reading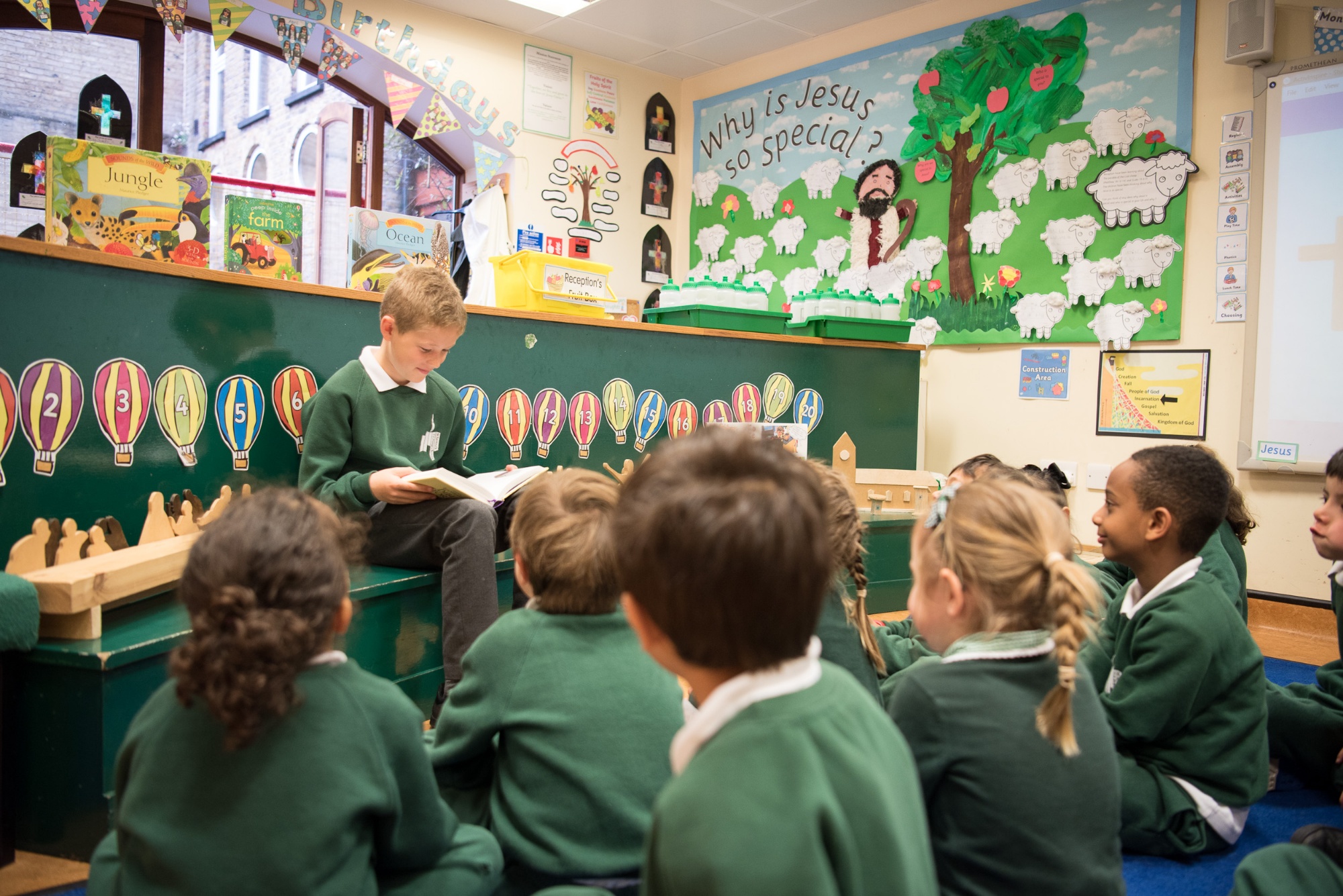 Why we teach it:
At St. Saviour's C. of E. Primary School we believe in the importance of nurturing a love of books and reading through developing pupils' de-coding and comprehension skills. We recognise that these two elements are intertwined and that children need both in order to become life-long readers and we have developed a coherent whole-school strategy for promoting reading for pleasure.
We recognise that being able to read well is a key life skill for children and believe that every child can learn to read with the right teaching and support. We believe that children should be read to during the school day, and that every member of staff should be an advocate for reading. We have worked hard to develop the school environment to support children's enjoyment of reading, placing reading and books at the centre of the curriculum. Across the whole school, the teaching of reading and writing is based upon and taught through high quality texts.
What we teach, how we teach it and what it looks like:
Phonics:
In Early Years and KS1, children learn to read by using phonics. We follow Letters and Sounds and support it with books from Project X, Phonics Bugs and Reading Stars. It is also supported by actions from Jolly Phonics. Phonics lessons are discrete and fast paced and children are taught the phonemes, how to segment and blend these in words and also to apply this learning to their reading and writing. The children thoroughly enjoy these lessons, and get great satisfaction from using this method to read. The books that children take home support the phonics learning in school. In Nursery, we teach Phase One and Phase Two, Reception revise Phase Two and teach Phase Three and Four. Phase Five will be started for children who are ready. In Year One, children learn Phase Five and Phase Six, including the spelling curriculum, and in Year Two Phase Six is incorporated into the spelling curriculum.
In Reception and Year One, children are continually assessed in phonics and teaching content and approaches are adapted to ensure that the needs of all learners are met. These assessments are regularly shared with parents and appropriate support and challenge are given. Children are also benchmarked every half term which assess reading and comprehension. Children then take one book home that meets their phonic and benchmark stage, and they also choose another book for pleasure.
Reading:
We develop children's comprehension and higher order reading skills in a number of ways:
· explicit teaching of these skills in English lessons throughout the school
· questioning of children about the books they are reading
· reading comprehension exercises and reading assessments, completed individually, in pairs, groups or as a whole class, plus opportunities to review and discuss answers
· reading and analysing texts in other subject areas across our curriculum
· asking questions and discussing our class books
· taking the opportunity to discuss vocabulary throughout the school day
· our support for the development of children's speaking skills and listening comprehension, through work on vocabulary extension and language comprehension.
Supporting the development of reading throughout the curriculum and school day:
Reading is an integral part of other lessons across the curriculum, including through reading and interpreting texts of some length in RE, History, Geography, Science etc. and reading questions and instructions in all curriculum areas. Reading fluency is also developed through reading words to songs and hymns in assemblies and music lessons. Vocabulary development also takes place throughout the school. Each class has a 'word of the day/week' vocabulary extension activity and new words and definitions are also discussed and collected as a whole school in assemblies.
Additional support for reading:
Children who need extra support are identified early and interventions are put in place. Appropriate support is given by the teacher or teaching assistant.
Across the school, we provide extra practice and support for children who are reluctant or less confident readers e.g. reading volunteers, daily 1:1 reading, reading groups, targeted reading interventions.
Children who do not pass the Phonics Screening Check in Year One go to these lessons as 'helpers' when they are in Year Two.
Children who have not passed the Phonics Screening Check by the end of Year Two, go on to receive Precision Teaching 1:1 with a trained TA.Volunteer readers read with children in KS2 on a 1:1 basis.
Supporting reading for pleasure:
Children across the school are encouraged to take books home that they have chosen.
At least once every half term, each class visits the local library. They have a story read to them and are then allowed to choose a book to take back to school. Staff from the library come into school to share books with children in the EYFS.
Book Week. Book Week falls over World Book Day and is always full of exciting activities. Parents are invited to come in and share books with children. It is always a great success and lots of fun.
Whole class reading time. All classes dedicate time to reading every day. They may choose a class book, it may be a child's choice, an article about something that has happened in the news, a well loved favourite...the possibilities are endless!
How parents can help
We involve parents to ensure the culture of reading that the school has developed extends into the home and are grateful to have parents who support this.
We regularly communicate with parents about reading. The main way is through Reading Records that create a useful two-way communication between home and school about reading progress and support. Parents write and make comments on the books their child/ren read and school makes comments when and where necessary. We hold a parent meeting and workshop in Year One to support parents with helping children to read. Reception parents are also invited. Book Week also encourages parents to get involved with reading at school by, for example, coming in for 'Book Swap Breakfast'. Parents are very keen to help and engage with supporting children's reading skills.
Writing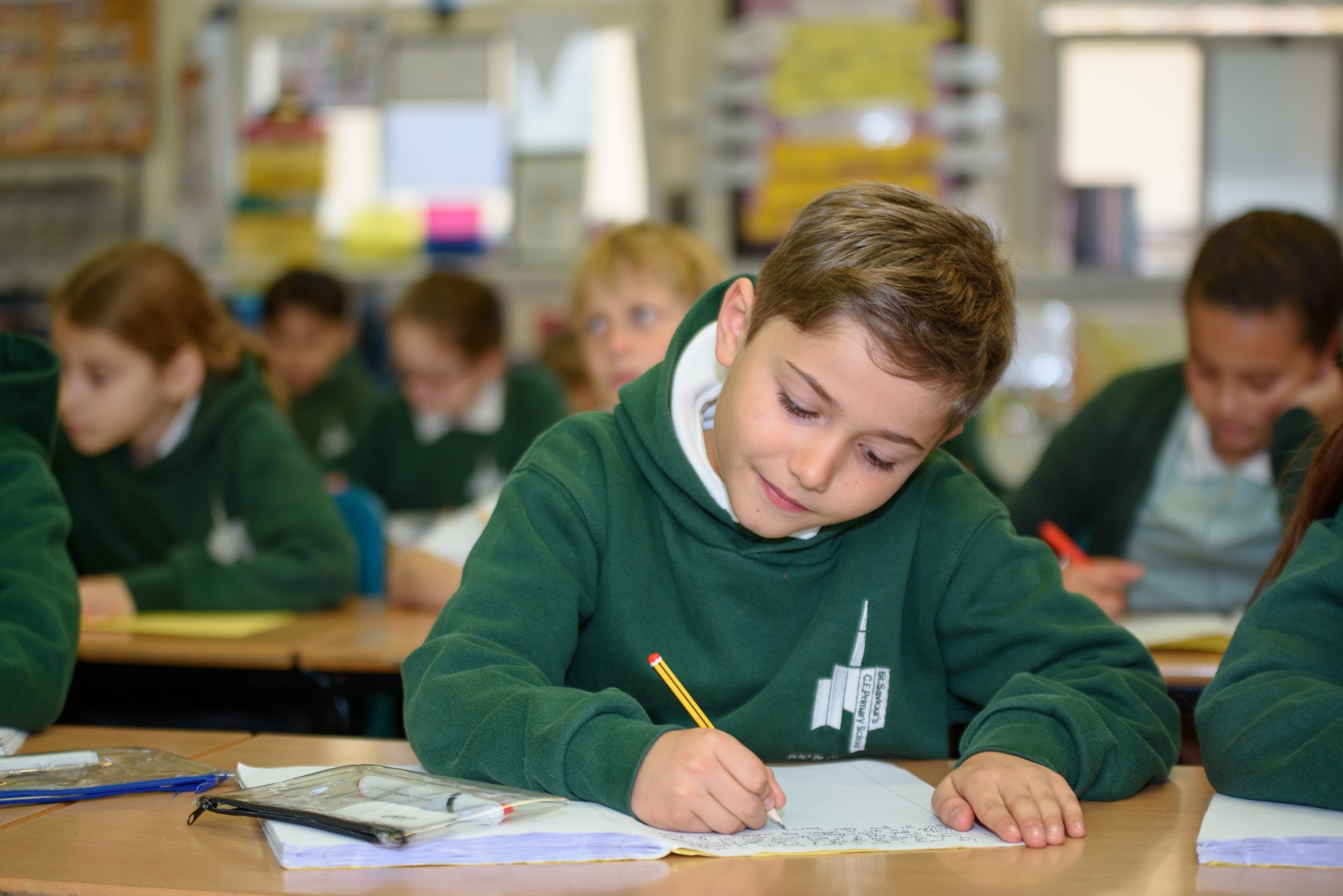 At St Saviour's we aim for all children to become proficient writers with sound grammatical knowledge and a rich imagination. We believe the children should have the opportunity to practise and develop their writing skills from a starting point they enjoy. Teachers often use topics and themes which are tailored to their children's interests.
The teaching of writing starts in the Early Years setting with mark making. The children are taught the correct pencil grip and explore making marks in a range of media such as paint, sand and shaving foam. There is continuous provision for mark making in the Early Years setting.
There is a high focus on the correct letter formation in Reception and this is key for their cursive writing later in their school life.
As children develop through the school, they are given opportunities to practise and improve their writing in many different contexts. Throughout their time at St Saviour's children receive ample opportunity to write in a range of genres such as stories, information reports, instructions, myths and legends and newspaper reports. The formal teaching of writing begins at word and sentence level and builds to structuring an extended piece of writing.
We recognise that writing is a complicated process and, therefore, in order for children to succeed, our planning provides a range of scaffolds to support their success. These scaffolds include; talk for writing, drama and role play, embedded ICT, writing for a range of purposes and audiences, explicit grammar teaching in context, exposure to high quality texts, visual and language scaffolds as well as the systematic teaching of spelling and handwriting.
Mathematics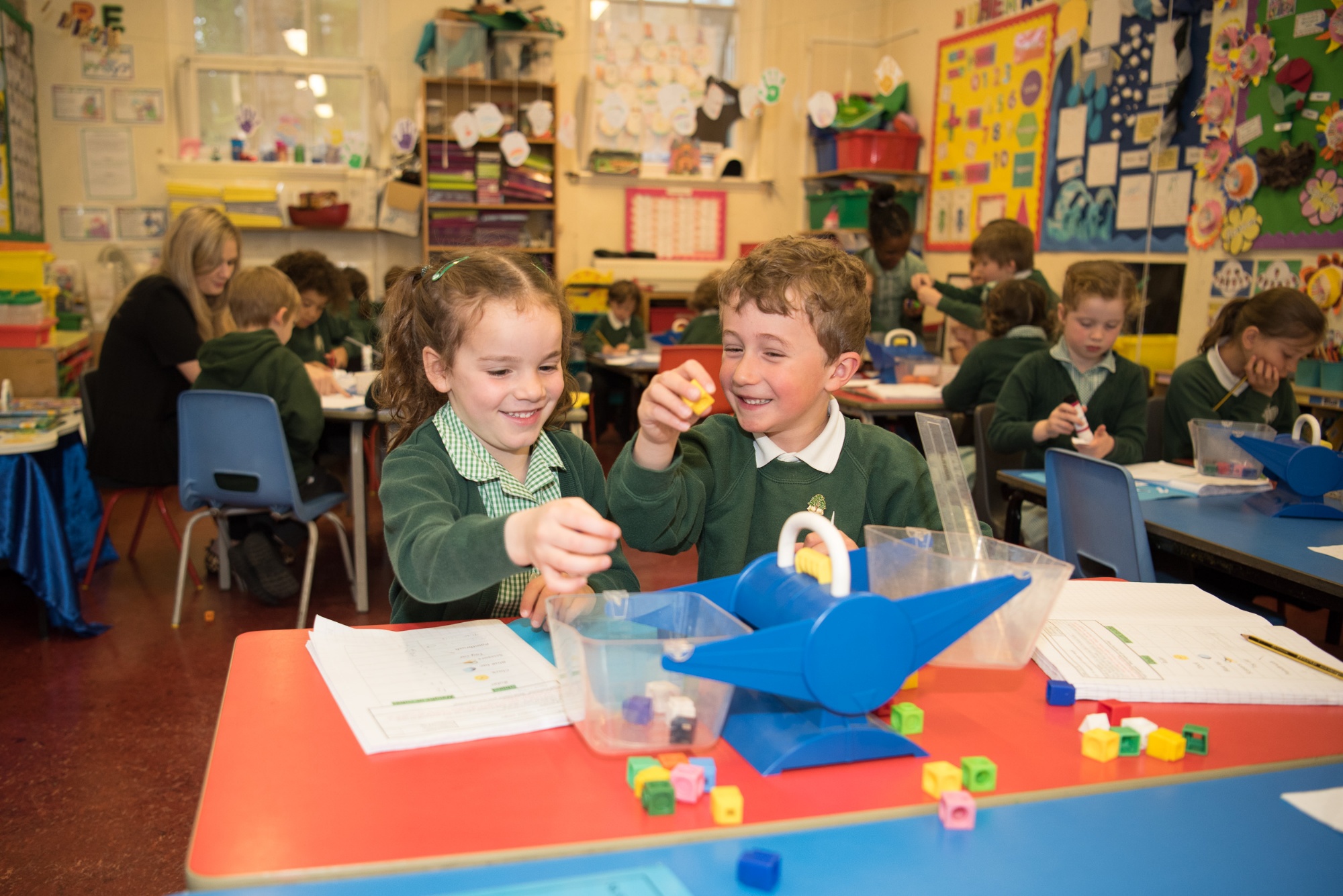 Why we teach it
Mathematics teaches children how to make sense of the world around them, through developing their ability to calculate, reason and solve problems.
Mathematics is essential to everyday life, critical to science, technology and engineering, and necessary for financial literacy and most forms of employment. A high-quality mathematics education therefore provides a foundation for understanding the world, the ability to reason mathematically, an appreciation of the beauty and power of mathematics, and a sense of enjoyment and curiosity about the subject.
We aim to support children to achieve economic well-being and equip them with a range of computational skills and the ability to solve problems in a variety of contexts.
What we teach and how we teach it
We use the Abacus scheme of work to help support our teaching and learning, and this enables the children to learn mathematical concepts, skills and knowledge through a broad spiral curriculum. Themes of maths are learned on a regular basis throughout the years, each time building on previous knowledge to ensure that progression occurs.
There is a daily mathematics lesson and a dedicated part of this lesson is given to mental maths. There is a strong focus on children being fluent in maths and being able to problem solve and reason so that they are able to apply the maths they have learnt to a variety of real life scenarios.
Children are taught the most efficient methods of calculation: addition, subtraction, multiplication and division. They are also taught the other areas of mathematics: number, ratio/proportion, algebra, fractions, geometry, measurement and statistics, in a structured and systematic way.
We recognise the importance of times table knowledge in the development of mental strategies within children's learning. To encourage these skills, we practise times tables each week, and in upper Key stage 2, division knowledge is tested.
We have a whole school Maths Week each year, where each class is given the opportunity to set up and run a business, with a prize for the most profitable enterprise. Pupils (and parents) also take part in a range of activities including a KS2 quiz, class swap and a problem-solving afternoon.
How Parents can help with Maths
In order to practise skills learnt in the classroom, it is essential that children revisit their learning at home. There are many ways to help children at home with Maths. Try to make maths as much fun as possible – games, puzzles and jigsaws are a great way to start.
Talk about Maths at home and place into real-life contexts:
take children shopping and talk about the quantities and cost of anything bought.
point out the different shapes and containers found around the home.
look together for numbers on street signs and car registration plates, notice patterns.
tell the time, look at timetables/calendars and discuss duration of different events.
All children from Year 1 up to Year 6 are provided with a login and password for Mathletics – an online learning tool. Children receive weekly maths homework, on Mathletics, which is linked to their current unit of learning in the classroom. The link to sign in is here.
All children benefit from positive, enthusiastic attitudes towards their learning and Maths is a great subject to better prepare our children for the future.
Religious Education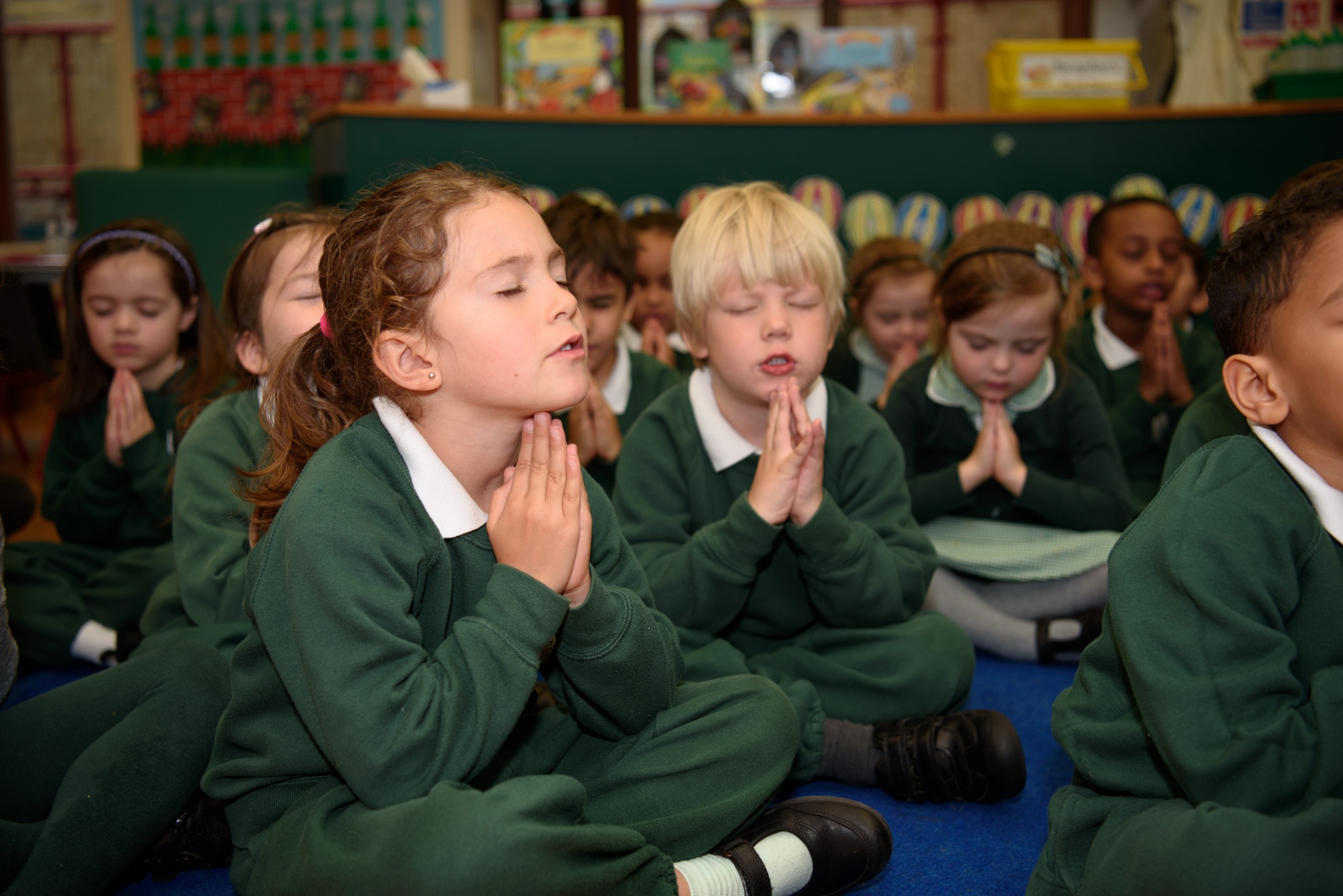 Why we teach it
Religious Education at St. Saviour's enables all children to explore religious beliefs and practises, some of which are located in the local community. Pupils will be encouraged to explore the fundamental questions of life raised by human experiences. Pupils will extend their thinking and analytical skills and their creative, imaginative and emotional development.
Religious Education will foster mutual understanding between students of differing religious and cultural backgrounds. Pupils will be encouraged to develop a reflective approach to life in an atmosphere of openness, exploration and enquiry. Pupils will be encouraged to respect the differences and help in the promotion of a harmonious society.
Supporting these Aims is our Vision 'Together we live and grow in the love of Jesus Christ.' This Vision is at the heart of everything we do at St. Saviour's and enables the children to be successful learners and caring individuals. To support our Vision, we use Galatians 5: 22-23 'The Fruit of the Spirit' to allow the children to understand how they can live and grow in the love of Jesus Christ.
What we teach and how we teach it
In accordance with the Statement of Entitlement Document written by the Church of England (2016) we ensure the following:
Children will study a two-third Christianity and one-third World Faiths curriculum in KS1 and KS2. The World Faiths include; Judaism, Buddhism, Islam, Sikhism, Hinduism and Local Faiths in our Community. In EYFS, the children will study a Christianity based curriculum.
Children will have the opportunities to learn about religion from a variety of resources.
Children will have opportunities to explore their own response to profound human experiences and universal symbols.
Children will be encouraged to respond freely to experiences and questions which have a profound or puzzling quality and to use a range of different forms of expression to convey their responses.
R.E. encompasses at least 1 hour 30 minutes per week across the school. This includes weekly R.E. lessons, weekly Mass, assemblies, themed days and the work of our RE Ambassador team.
Father Bradley is closely involved in the planning of all aspects of worship.
Please click here to view our RE Curriculum Overview for 2019/2020.
Approaches
St Saviour's CE Primary School follows the revised London Diocese Board for Schools (LDBS) scheme (2017). This is taught throughout the school from Nursery to Year Six. In all year groups (EYFS, KS1 and KS2) we also use Godly Play.
R.E is approached through stories, cross curricular themes, R.E topics, festivals and whole school topics, discussion on specific ideas and spontaneous enquiries.
To enable the vision statement to be a focal point in our daily lives, it is displayed under the hall figure of Jesus Christ, it is displayed in every classroom on the RE table, incorporated into the hall entrance display and is printed on the front cover of every exercise book. It is also recited everyday, after grace has been said.
We use the Fruit of the Spirit 'values' as a focus every half term within weekly class worship and whole school collective worship. In addition, we celebrate and discuss each value during an afternoon of focussed activities for that particular value. We share our understanding of the Fruit of the Spirit with a display in our school entrance, with evidence of work completed by all year groups.
All staff will be given opportunities to attend training and CPD as well as exploring and developing their own Faith. The school subscribes to the training offered by the LDBS and other religious bodies.
Teachers can be given the opportunities to observe R.E lessons in other Faith schools.
Methods
Teaching methods are stimulating and engaging, providing all students with access to religious education. Consideration is paid to different learning styles and the differing abilities of children so that all pupils make progress in their learning. A range of teaching and learning strategies which are effective for inclusive teaching of Religious Education include:
Weekly Mass Service
Daily assemblies
Class Worship (usually on Wednesdays)
Weekly R.E lessons
Weekly circle time-Friday 1.15-1.45
Nursery use Key Worker groups for religious discussions and reflection time
Visits to places of worship, museums or art galleries
R.E. Ambassadors from Y1-6 who discuss R.E. topics and events
The use of representatives from religious traditions as visitors to the class e.g. on World Faiths Day
The use of artefacts, big books, posters, videos, artwork
The use of picture or word cards for matching, classifying, prioritising, sequencing, etc
The use of art and craft to enable students to express their ideas
The use of drama, role play, gesture or dance through Godly Play
The use of music to create an atmosphere or for expression of ideas and emotions
The use of information and communication technology, such as digital cameras, interactive whiteboards, websites, etc.
Inclusion
All pupils will be given equal opportunities to access this area of the curriculum, R.E is a statutory subject and therefore all children must attend R.E lessons.
Lessons are planned and implemented with the intent to teach pupils to learn about (AT1) and learn from religion (AT2). The school ensures teachers are not discriminative towards children of other faiths and instead sees this as a learning opportunity.
If any parent is concerned over a particular topic, they are encouraged to discuss the matter with the Head teacher and or Subject Leader. These discussions are always handled sensitively.
As with all subjects, teachers must ensure they cater for the needs of individual pupils. Teachers are responsible for the progress and attainment of all groups (e.g. SEN, EAL, FSM, Disabled pupils and all ethnic groups) in addition to this teachers must be aware of the variety of different religions within the class, to ensure all peer to peer learning opportunities are exploited and pupils views are handled in a sensitive manner. Our SENCo attends regularly LDBS and Local Authority Network meetings where provision across subjects such as RE for children with additional needs is discussed. This information is shared with all staff following these meetings through meetings or INSET training.
Religious Core Concepts
As recommended by the LDBS through their CPD and Curriculum, we encourage the children to think about their learning (within the Christian faith) through big questions and core concepts, which are:
| | |
| --- | --- |
| God | Fundamental to Christian belief is the existence of God, Father, Son and Holy Spirit. |
| Creation | The universe and human life are God's good creation. Humans are made in the image of God. |
| Fall | Humans have a tendency to go their own way rather than keep their place in relation to their Creator. This attitude is called sin, and Genesis 3 gives an account of this rebellion, popularly called 'the Fall'. This describes a catastrophic separation between God and humans, between humans and each other, and between humans and the environment. This idea that humans are 'fallen' and in need of rescue (or salvation) sets out the root cause of many problems for humanity. |
| People of God | The Old Testament tells the story of God's plan to reverse the impact of the Fall, to save humanity. It involves choosing a people who will model a restored relationship with God, who will attract all other people back to God. The Bible narrative includes the ups and downs of this plan, including the message of the prophets,5 who tried to persuade people to stick with God. The plan appears to end in failure with the people of God exiled, and then returning, awaiting a 'messiah' — the anointed one/the chosen one. |
| Incarnation | The New Testament presents Jesus as the answer: the Messiah and Saviour, who will repair the effects of sin and the Fall and offer a way for humans to be at one with God again. Incarnation means that Jesus is God in the flesh, and that, in Jesus, God came to live among humans. |
| Gospel | Jesus' incarnation is 'good news' for all people. ('Gospel' means 'good news'.) His life, teaching and ministry embody what it is like to be one of the people of God, what it means to live in relationship with God. Jesus' example and teaching emphasise loving one's neighbour — particularly the weak and vulnerable — as part of loving God. |
| Salvation | Jesus' death and resurrection effect the rescue or salvation of humans. He opens the way back to God. Through Jesus, sin is dealt with, forgiveness offered, and the relationship between God and humans is restored. |
| Kingdom of God | This does not mean that no one sins anymore! The Bible talks in terms of God's 'Kingdom' having begun in human hearts through Jesus. The idea of the 'Kingdom of God' reflects God's ideal for human life in the world — a vision of life lived in the way God intended for human beings. Christians look forward to a time when God's rule is fulfilled at some future point, in a restored, transformed heaven and earth. Meanwhile, they seek to live this attractive life as in God's Kingdom, following Jesus' example, inspired and empowered by God's Spirit. |
The children discuss within their lessons which core concept(s) may be a focus of the lesson when learning through the lessons' key question.
Science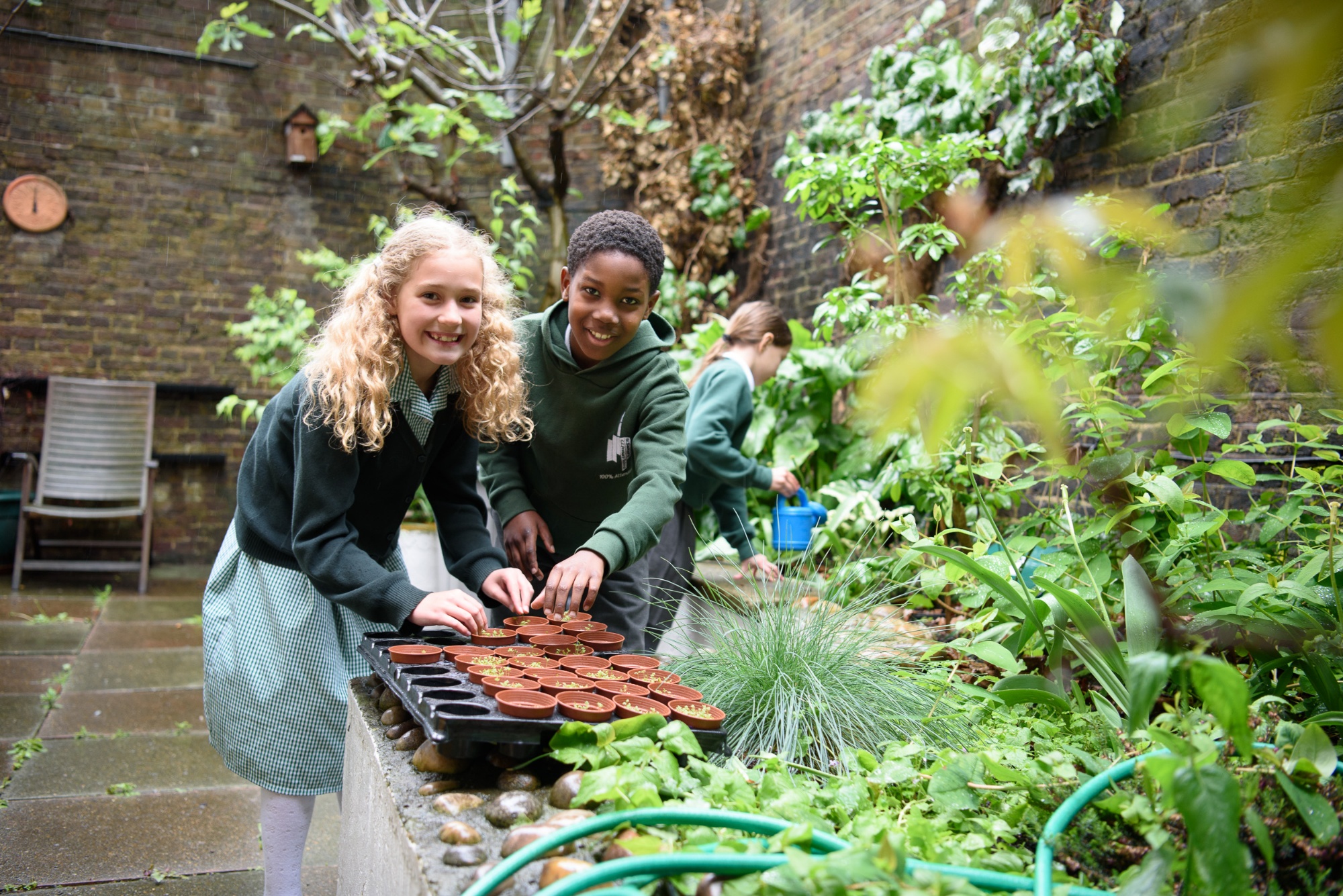 Why we teach it
As a church school in an ever-changing world, we have a responsibility not only to educate our children in the traditional subjects, but to broaden their minds and build their confidence so that they become independent, inquisitive and reflective learners.
For children, Science is a subject that provides a tangible link to learning and the evolving world around them. Our aim is to ensure that all pupils develop scientific knowledge and conceptual understanding through the disciplines of biology, chemistry and physics. We aim to develop their understanding of the nature, processes and methods of science through different types of enquiries that will help them to answer scientific questions about the world around them.
What we teach and how we teach it
In accordance with the National Curriculum, Science Programme of Study (2014) we ensure the following:
Children will study the units prescribed by the National Curriculum in KS1 and KS2. They will also have opportunities to work scientifically through a range of scientific enquiries
Children will have the opportunities to learn about different scientific concepts through a variety of resources.
Our curriculum ensures that there is clear progression of knowledge, concepts and vocabulary across the KS1 and KS2. This ensures that all children are equipped with the scientific knowledge required to understand the uses and implications of science, today and for the future.
Please click here to view our Science Curriculum Overview for 2019/2020.
Teaching methods are stimulating and engaging, providing all students with access to the science curriculum. Consideration is paid to different learning styles and needs of children so that all pupils make progress in their learning. A range of teaching and learning strategies are used which are effective for inclusive teaching of science.
In EYFS the focus is Knowledge and Understanding of the World. Children are encouraged to explore and talk about the world around them. They are encouraged to observe changes in their environment and features of living things.
Children will have opportunities to explore their own scientific questions that arise through their studies. They will be encouraged to use a variety of approaches to answer relevant scientific questions.
Children will be encouraged to build on and draw from their previous knowledge, understanding of concepts and vocabulary in order to answer scientific questions about the world around them.
Our lessons are enhanced through the use of various resources such as:
The use of websites, diagrams and videos.
The use of picture or word cards for naming, matching, classifying, and sequencing.
The use of science equipment to carry out investigations.
The use of information and communication technology, such as digital cameras, interactive whiteboards and iPads.
Children's experience of Science will be enhanced through a variety of trips and the delivery of Science Week. We hope, that through our teaching, all of our children will develop an enthusiasm and lifelong love for Science.
How parents can help
Science can be simple, and it can be fun. Whether you head out into the backyard to observe a colony of ants or watch a storm roll in, these everyday scenarios are learning opportunities parents can take advantage of.
Explore, explore, explore! Science is everywhere, which is why a visit to the park or an afternoon in the yard provide so many opportunities to learn. Always encourage your child to question their surroundings, and then discuss. If there is something you're unsure of, research and learn the answer together. You don't need to know all the answers—in fact, as a parent, it is beneficial when you ask questions and model curiosity as well.
Remember, science is cumulative. This means that children will build knowledge from what they already know. Start celebrating science in your home as early as possible, discuss science-based topics daily, and make it fun! Whether that means you head out for a special family constellation night or bake a cake, these are everyday opportunities that allow you to discuss science.
Computing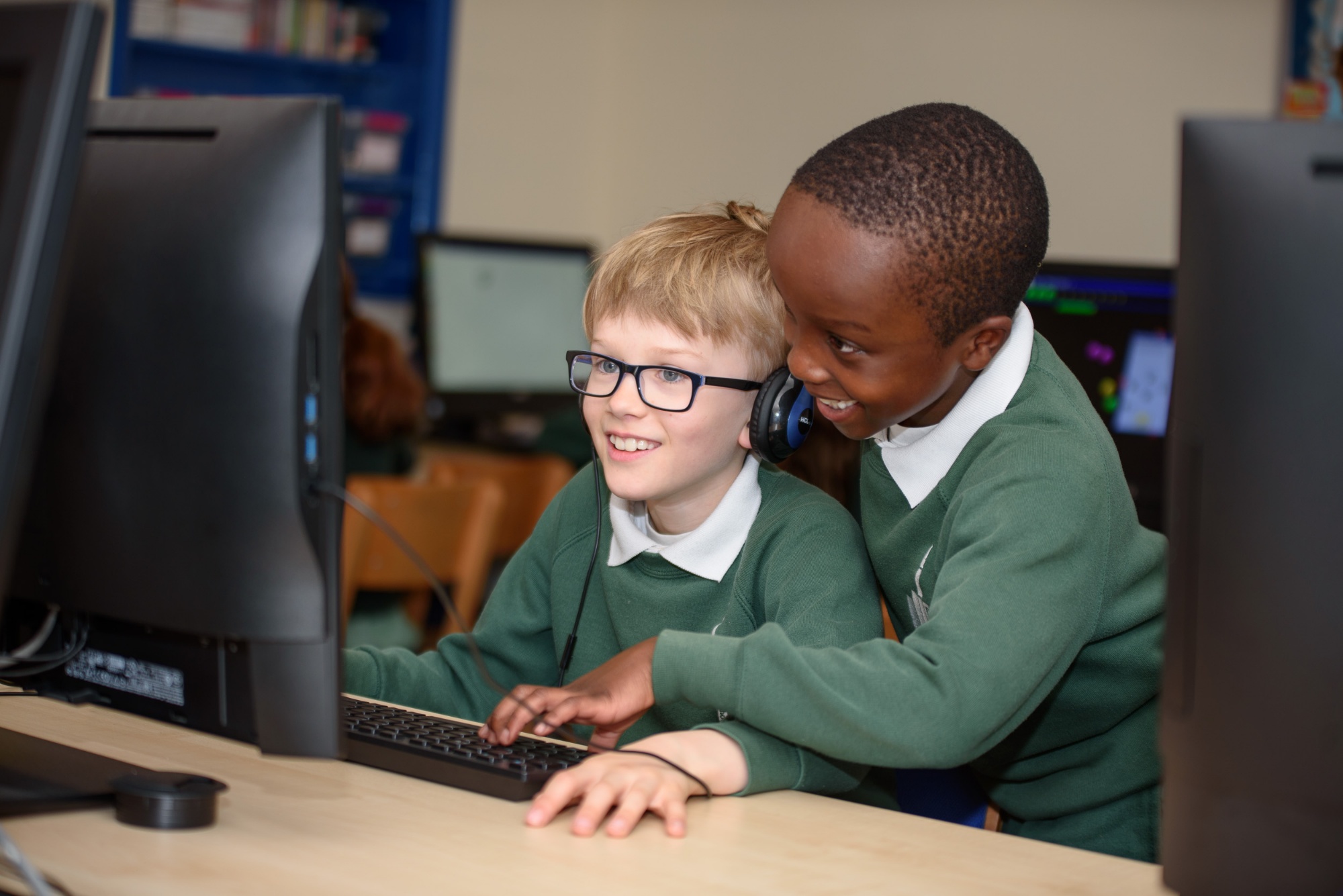 Why we teach it
St Saviour's recently saw the opening of our brand new Computing Suite, which has enabled each class to embed IT fully within all areas of the curriculum.
Computers are now part of everyday life. For most of us, technology is essential to our lives, at home and at work. The new national curriculum for Computing has been developed to equip young people in England with the foundational skills, knowledge and understanding of computing they will need for the rest of their lives. We aim for our children to be responsible, competent, confident and creative users of information and communication technology.
What we teach and how we teach it
At St Saviour's, each child has one hour of discrete Computing a week. During these lessons, children have access to a range of software programs and applications to help learn a range of important skills. Children should build on their knowledge and understanding of digital systems, and explore how this can be used through programming. Children are encouraged to debug programmes and become independent learners in the process of solving problems they may encounter.
Children at St Saviour's also have the opportunity to use IT in other areas of learning, in order to develop their creativity. They are encouraged to use information and communication technology, at an age appropriate level, to express themselves and develop their ideas. Some examples include using:
the green screen for weather reports in Geography
apps for handwriting and phonics practise in Early Years
iPads for research investigations in Science
the inbuilt compass to locate countries and key cities in RE and Geography
comic strips to tacking bullying in PSHE
Online Safety is also an incredibly important area of Computing that is discussed with all children across the Key Stages. Children are taught how to recognise suspicious or inappropriate content when using applications or working online, and how to sensibly respond to it. Children are also taught how to safely search for content online, using carefully selected sites with appropriate filters. The children are aware of our school motto of 'Zip it, Block it, Flag it', which reinforces the idea of keeping personal information safe, blocking inappropriate or harmful messages and informing a responsible adult. Online Safety Week is a fantastic opportunity for teachers and staff to highlight key Online Safety topics.
We use the Rising Stars scheme of work in order to ensure that all areas of the Computing Curriculum is being taught and carefully assessed. We have adapted it to ensure that the individual needs of all our children are met and all children are able to fully access the Computing Curriculum. Our overview for Computing, showing the range of topics and progression of skills, can be found below: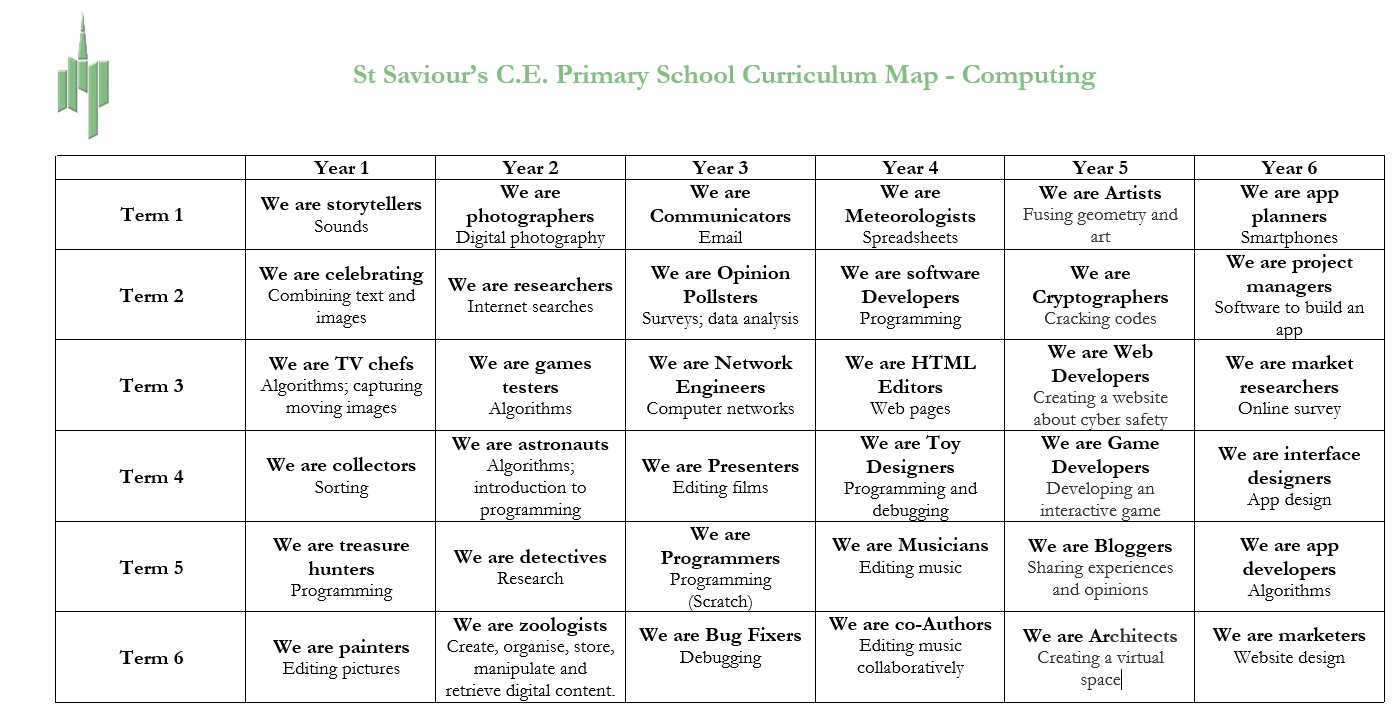 ​​
Year Six Tech Team
Each year, we will have Year Six children who are members of the Tech Team. They will be our Computing ambassadors for the school. They will meet once a week with Miss Cornelius to discuss how IT is being used in the school and discuss any feedback from other children regarding IT matters. We will have meetings about current apps as well as create digital material to promote recent school events.
KS1 Tech Leaders
We also have KS1 Tech Leaders who have a responsibility to help and assist others in Computing lessons. They are also involved in Internet Safety Week and promoting IT in the younger years.
How parents can help
At St Saviour's, we feel very strongly about ensuring that all staff and parents have a responsibility for safeguarding our children online and with the use of technology.
Parents can help support us with our aims in Computing by:
Attending our Computing and Online Safety Parent workshops.
Reinforcing our whole school 'Zip it, Block it, Flag it' motto.
Carefully monitoring the use of technology at home, ensuring that they are aware of what children are doing online and limiting the time children are accessing technologies.
Carefully reading our Online Safety Policy, which can be found here.
Reading our Vodafone 'Digital Parenting' magazines, that are sent home with children as and when a new issue is released.
Agreeing to our Acceptable Use Agreements at the beginning of each school year and keeping us informed of any changes or updates depending on their preferences.
Modelling good practise when it comes to screen time and considering our own online reputations.
Allowing children to access technology for home learning, such as Mathletics.
Following practical steps to achieve a healthy and balanced diet, using the Children's Commissioner's 'Digital 5 a Day' framework.
Music

Why we teach it
Plato said "I would teach children music, physics, and philosophy; but most importantly music, for the patterns in music and all the arts are the keys to learning."
Music is a universal language that embodies one of the highest forms of creativity. A high-quality musical education should engage and inspire pupils to develop a love of music and their talent as musicians, and so increase their self-confidence, creativity and sense of achievement.
At St. Saviour's we believe that Music is a vital part of the children's education and we offer a rich and varied curriculum to aid learning academically, emotionally, physically and spiritually. Music is used to unite the school, bringing children and school community together.
What we teach and how we teach it
Music lessons are taught by Miss Hodgson who has transformed singing and the study of Music over the last ten years. Each class receives a weekly lesson covering the National Curriculum objectives where they learn valuable skills in composition, singing and the use of instruments as well as developing an appreciation of classical musical genres and composers.
Early Years and KS1 children focus on developing rhythm and pitch as well as an ability to play percussion instruments with care and accuracy. There is a strong focus on singing and encouraging the children to build their own song bank which includes Nursery Rhymes and simple well known children's favourites.

In KS2 the children continue to develop their singing as well as beginning to learn to play as an ensemble as they develop towards playing as a soloist. In Year 3 the children learn patterns and rhythms with a focus on African Drumming. Year Four learn to play the recorder, Year Five learn to play and sing with the ukulele and Year Six learn to play as a class Samba Band. KS2 children are taught to read and write in notation on the stave and also enjoy an annual visit to a live concert.
Every Music lesson begins with listening; the children are taught how to appreciate and interpret a piece or extract of classical music from a range of musical periods. The children use Classical100 (a bank of 100 well-loved pieces created by Classic fm) to help explore, discover and listen to music – and ultimately to develop their own personal interests, tastes and opinions. The 100 pieces embrace a rich diversity of styles ranging over ten centuries, from Hildegard of Bingen to Graham Fitkin, via Bach, Beethoven, Brahms, Mozart, Tchaikovsky and more.
Click here to see our whole school curriculum overview for music.
Our school is proud to be a Sing Up school. Sing Up is an organisation which promotes singing in primary schools and offers the children access to a repertoire of over 800 songs. We sing many of these songs in assemblies, in classrooms and as part of their Music progression from Nursery to Year 6. Quite often Sing Up songs are performed at special events such as our Termly Mass services, but are also integrated in to everyday life at school including playtimes! We are delighted to have been presented with our Sing Up GOLD Award.
Children enjoy regular opportunities to perform throughout the school year including church services and musical productions culminating in the impressive summer term's 'Expressive Arts Concert' staged in the church.
There is a 50 strong School Choir who sing each week at Mass as well as at various concerts and events throughout the year. The children also enjoy sharing their love of singing with regular visits to a local care home.
The school offers children the opportunity to take private instrumental lessons after school. We have five peripatetic teachers who offer lessons on: piano, guitar, trumpet, cello, violin, singing and drums.
We're proud to boast that a number of our Gifted and Talented (G&T) singers are members of the Tri-Borough Hub's 'Little Singers' and also their 'Young Singers' choir who perform regularly at prestigious locations such as the Albert Hall, The Coliseum and Wigmore Hall.
Art

Why we teach it
Art, craft and design embody some of the highest forms of human creativity. A high-quality art and design education should engage, inspire and challenge pupils, equipping them with the knowledge and skills to experiment, invent and create their own works of art, craft and design. As pupils progress, they should be able to think critically and develop a more rigorous understanding of art and design. They should also know how art and design both reflect and shape our history, and contribute to the culture, creativity and wealth of our nation.
What we teach and how we teach it
Art lessons at St. Saviour's are taught by our Artist-in-Residence, Ms. Smallhorn. Each term, the children (from Nursery to Year 6) have a dedicated Art day or session to fully immerse themselves in their learning. Lessons are enriched with visits to galleries and with visits from specialists. We are very proud of the Anthony Gormley project we took part in which resulted in the four life-sized maquettes which now hang prominently on the front of the school building
The national curriculum for art and design aims to ensure that all pupils:
produce creative work, exploring their ideas and recording their experiences
become proficient in drawing, painting, sculpture and other art, craft and design techniques
evaluate and analyse creative works using the language of art, craft and design
know about great artists, craft makers and designers, and understand the historical and cultural development of their art forms
Click here to see our whole school curriculum overview for Art.
Drama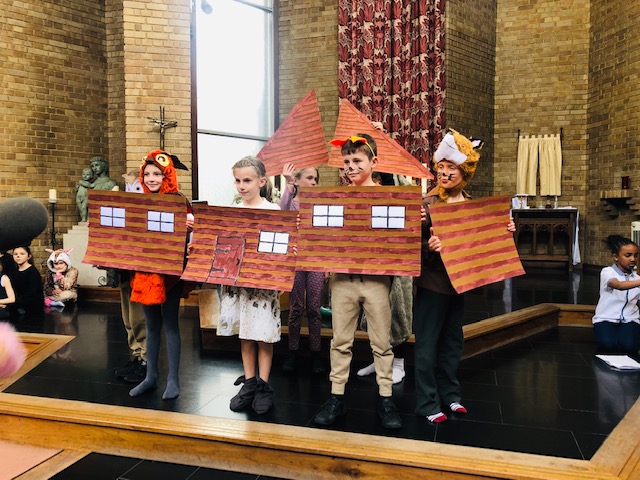 Why we teach it
Drama is an art form, a practical activity and an intellectual discipline. At St Saviour's, drama begins naturally with learning through dramatic play in our Early Years and Key Stage 1 and then in common with all subjects, it requires specific skills, knowledge and understanding which are progressively taught through and across the key stages building upon previous learning.
What we teach and how we teach it
From Nursery to Year 6, children are given the opportunity to perform in a school production, from Nativities to mini-musicals to full-blown shows. Children have the chance to learn lines, sing, wear costume and play characters.
In addition, drama skills are woven through the curriculum and employed in a variety of lessons. Drama skills sessions link with the work that the children are learning in class; history, geography, literacy or R.E., exploring, consolidating and deepening their understanding through drama techniques and games.
The children are encouraged to empathise with characters or situations through the use of strategies such as hot seating, conscience alley, freeze frames and tableaus, Greek chorus, talking statues, improvisation, thought tracker and role play. KS2 children begin to develop their scripting skills as they start to develop their knowledge and understanding of dialogue and stage directions.
In the past the children have explored: Heroes of Troy, Tales of Anancy, The Great Fire of London, Stone Age Fireside Stories, Astronauts in Space, Florence Nightingale and the Crimean War, Brazilian Folktales, The Gingerbread Man, Goldilocks and the Three Bears, Midsummer Night's Dream and The Jabberwocky.
PSHE
Why we teach it
Personal, Social, Health and Economic Education (PSHE) teaches children about the world around them. It aims to make children more self-aware; tackling many of the moral, social and cultural issues that are part of growing up. Children should appreciate that we live in a diverse society which is constantly evolving. The fundamental British Values underpin our PSHE curriculum, encouraging children to be tolerant citizens who are respectful towards others. This is in keeping with our School Vision. By taking part in PSHE lessons, children should begin to understand how they can become healthy, independent and responsible members of a society.
We aim to provide:
accurate, balanced and relevant knowledge
opportunities to turn that knowledge into personal understanding
opportunities to explore, clarify and if necessary challenge, their own and others' values, attitudes, beliefs, rights and responsibilities
the skills, language and strategies they need in order to live healthy, safe, fulfilling, responsible and balanced lives
opportunities to develop positive personal attributes such as resilience, self-confidence, self-esteem, and empathy
From September 2020, PSHE will become a statutory subject. The guidance on the teaching of Relationships and Sex Education (RSE) is also changing. The curriculum has been revised in order to meet the requirements given by the Department for Education (DfE). St Saviour's is an Early Adopter School, meaning we will be following the new RSE guidance before it become mandatory. As a result, we have received extra support and training from the DfE in order to ensure that the curriculum is facilitated in age appropriate manner. We are currently in the process of consulting with pupils, parents, staff and governors about our new PSHE and RSE curriculum.
What we teach and how we teach it
PSHE Education is a planned programme of learning through which children and young people acquire the knowledge, understanding and skills they need to manage their lives – now and in the future. It is taught fortnightly. Due to the nature of the subject, lessons can take many different forms but are often discussion based.
The PSHE scheme of work has been compiled by the school so that we are able to meet the needs of pupils effectively. Each term has an overarching theme (applicable to the whole school) which all class-specific topics are linked to. Many of the topics from Key Stage One are revisited later in Key Stage Two. This enables us to support children as they mature and understand more about society.
We use a variety of different teaching techniques during PSHE lessons:
Mind maps
Discussion/debates
Drama activities
Group activities
Storyboards
Writing activities
Visitors from external agencies
Matching cards
Video clips
Scenarios
Please note, this list is not exhaustive and teachers will use their discretion to adapt lessons accordingly.
When teaching Relationships and Sex Education (RSE) and Drugs, Alcohol and Tobacco Education (DATe), we follow the Christopher Winter Project Scheme of work. This has recently been updated in light of the new guidance. We sought advice from the Health Education Partnership when selecting this scheme and are confident that the content is suitable for our pupils. It is important to note that some RSE content is covered within Science lessons.
Online Safety is covered within our Computing scheme of work.
School assemblies also form an integral part of PSHE, enriching children's Spiritual, Moral, Social and Cultural development. Special days, such as Family Day and Safer Internet Day, also allow us to embed PSHE in our daily school lives.
Each class has a PSHE portfolio to present their work in. This clearly links to the overarching theme for the term and the topic that is being covered. All children's work will be represented in the portfolio over the course of the year.
At the start of the year, each class created a set of 'Ground Rules' for PSHE lessons. These are clearly displayed at the front of the PSHE portfolio. Each lesson begins with a 'Circle Talk' question, linked to the topic. Children are encouraged to listen with respect and have the option to pass if they do not feel comfortable taking part.
Whilst every effort is made to follow the PSHE curriculum, there may be occasions where teachers deem it necessary to teach PSHE as a result of an issue arisen either at school, home or in the wider world and thus content may differ from the overview.
As PSHE becomes statutory, there will be changes to the curriculum. Much of this is already covered by the Scheme of Work: however, there will be alterations and additions that we will be working on throughout this academic year after further advice from the Local Authority and PSHE Association.
All stakeholders will have opportunity to give their views at an appropriate time.
How parents can help
At St Saviour's, we believe that the personal, social, health and economic development of children is achieved through partnership between school and the family. To support your child, you could:
Attend parent workshops and meetings about PSHE related issues such as online safety, relationships and sex education and drugs
Talk with your children about the issues explored in PSHE education
If you have any concerns about PSHE or are worried about your child, do speak to their teacher. Any queries will be handled sensitively.
Dance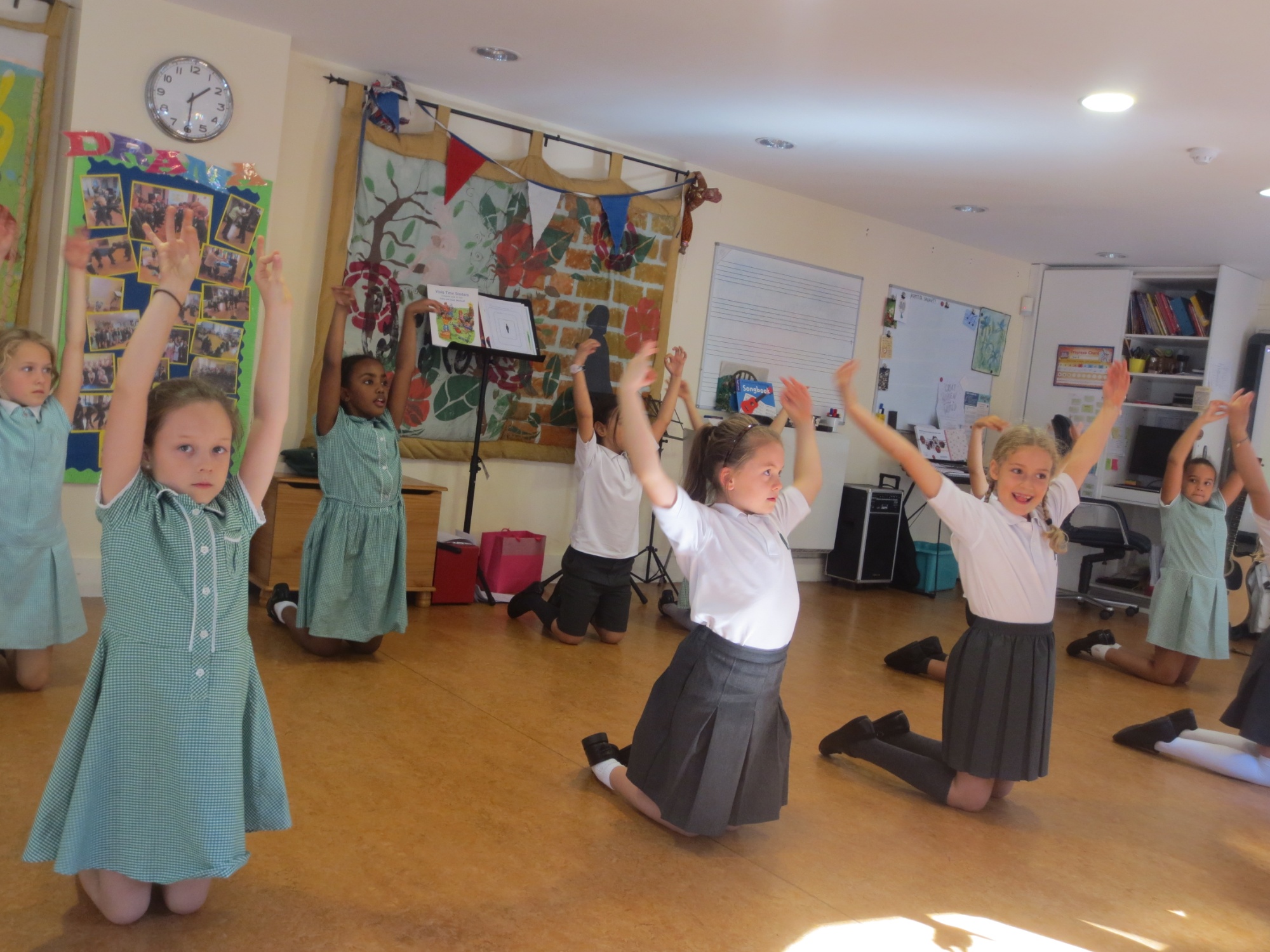 Why we teach it
In Dance, children learn and develop many skills; learning the value of discipline, commitment and work ethic, as well as creative thinking skills. Self-confidence develops as children overcome challenges to master new goals, learning to apply themselves and accomplish any task put before them.
What we teach and how we teach it
Our Dance lessons are taught by professional choreographer, Marc Berridge. The children learn a variety of Dance styles during their time at St. Saviour's, learning to follow a routine taught to them as well as choreograph their own sequences based on moves they have been taught or that they have created themselves. The children have learnt routines in the following styles: Ballet, Tap, Modern, Musical Theatre, Street, Bollywood and Latin. Each term the children share their routines with an audience including parents and carers who are always keen to celebrate the children's Dance achievements.
Click here to see the whole school curriculum overview for Dance.
Design and Technology
Why we teach it
Design and Technology helps to prepare children for the developing world. The subject encourages children to become creative problem solvers, both as individuals and as part of a team. Through the study of design and technology, they combine practical skills with an understanding of aesthetic, social and environmental issues. Design and Technology helps all children to become discriminating and informed consumers and potential innovators. It should assist children in developing a greater awareness and understanding of how everyday products are designed and made.
What we teach and how we teach it
At St Saviour's we follow the 'Design, Make, Evaluate' approach to the teaching of DT, as outlined in the National Curriculum Programmes of Study document. The technical skills which we teach encompass the following areas: Construction, Mechanisms, Textiles and Food and Nutrition. We feel that the teaching of Food and Nutrition is a great importance and holds great relevance in current times. For this reason, children will study a Food and Nutrition unit every year.
During DT sessions, children are encouraged to be inquisitive about the way products work. We encourage both asking and answering questions in order to deepen children's understanding of product and product design. They will use market research to inform their designs and, as they move up through the school, will be encouraged to draw detailed designs and make prototypes in order to refine their designs before creating their final piece. Whilst making their products, staff will guide them through the technical skills they will require, modelling good practice and highlighting safety considerations with the children. Through the evaluation stage of our 'Plan, Make, Evaluate' approach, children are encouraged to reflect upon their final products, considering how they could have altered their design or techniques to impact the overall appearance and usability of their product.
Click here to see the whole school curriculum overview for Design and Technology.
Geography
Why we teach it
Geography is taught to inspire children's curiosity with the world around them. The teaching of geography gives children in depth knowledge about a range of diverse places, people, resources, and environments. Through the school, pupils deepen their understanding of how a range of landscapes are formed and how these impact peoples' lives.
Children learn through observation during fieldwork opportunities and develop their locational knowledge through the study of maps, globes and atlases. They answer geographical questions through collecting and recording evidence.
What we teach and how we teach it
In Key Stage 1 pupils begin by learning about the world around them, including their local area. They observe patterns in the weather and learn about the countries that make up the United Kingdom. In Year 2 pupils learn make comparisons between where they live and Jamaica. At the end of Key Stage 1 the children make a trip to the seaside to deepen their understanding of different environments.
In Key Stage 2, children extend their knowledge of the world and learn about North and South America, in particular the Rocky Mountains in the USA and South East Brazil. They learn about a region of the United Kingdom and Europe. Children in Key Stage 2 children enhance their learning through fieldwork and the use of OS and digital maps.
Click here to see our whole school curriculum overview for Geography.
How parents can help
Parents can help by using a globe, map or atlas to find different places in the world. These could be countries, continents or other physical features such as rivers, deserts or mountains. Parents could discuss appropriate global current events to do with weather, resources or economic activity.
Spanish
Why we teach it
Language education enriches pupils' lives and enables children to learn about the culture and lives of people around the world. In Key Stage 2, Spanish is taught to give pupils the skills to understand written and spoken Spanish. Children are taught to express themselves through their own speaking and writing. In addition to this, children gain an understanding of the various cultures of Spanish speaking peoples around the world. Learning a language gives pupils the ability to compare what they learn with other languages and may help them in their further education.
What we teach and how we teach it
Children are taught to develop their listening skills through understanding and responding to authentic spoken language. Accuracy in pronunciation and intonation is developed through conversation and speaking and listening activities. Pupils learn about grammatical features such as masculine and feminine nouns and learn how to build sentences. Children also learn songs, poems and rhymes that help them to understand the cultural practices and festivals of Spain and other Spanish speaking countries.
Language learning is enriched through a whole school Spanish Day and an after school Spanish club for KS1 and KS2.
How parents can help
Parents can help through asking their children about their learning and using vocabulary at home. Spanish English dictionaries could be used to look up unknown words.
History
Why we teach it
A high quality history education will help pupils gain a coherent knowledge and understanding of Britain's past and that of the wider world.
Learning about the past and the methods used to study it helps pupils to make sense of their own identity as well as the world in which they live. Through enquiry questions and focused themes, pupils develop their historical skills and understanding of the past in many areas of the core and foundation curriculum.
The teaching of history at St. Saviour's helps the children to:
1. Develop their historical enquiry skills
2. Improve their historical understanding and awareness of the past
3. Develop an interest in the past
4. Understand the present in relation to the past
What we teach and how we teach it
Historical Enquiry Skills
Chronology
Historical knowledge and understanding
Historical interpretation
Historical enquiry
Organisation and communication

Learning in history is achieved in a variety of ways. Our principal aim is to enable pupils to think as historians alongside developing historical skills and understanding of the past. The history curriculum is delivered with consciousness and care to ensure pupils have a sound chronological understanding of time periods they have studied so far, this being the first of our historical enquiry skills.
Children use a range of enquiry skills to answer the 'big question' which is broken down into a series of enquiry questions across a unit. Our working wall displays encourage pupils to experience history as a source of discovery and learning as well to recap on previous learning. A variety of resources and enquiry-based research activities stimulate curiosity in pupils and ensures learning is accessible for all.
Our topics link together through chronology, cross-curricularity and a thematic approach which changes bi-annually. As specified in the National Curriculum, Key Stage Two combines overview studies across a half term with depth studies which last for a full term. We find that this approach enables pupils to appreciate the 'bigger picture' of world history while developing factual, subject-specific knowledge across a variety of time periods.
Click here here to see our whole school curriculum overview for History.
How parents can help
There are many ways to help children at home with History. Some ideas include engaging in discussions with your child and asking them to recall what they have learned – not just this term or year, but in previous years too. We are lucky enough to live in a city which is rich with educational opportunities for history – these include museums, art galleries and places of historical interest. This is particularly helpful for children when they partake in a local study. Reading non-fiction books with your child is an additional way to inspire their own curiosity, build upon their knowledge and ask and answer perceptive questions.
Physical Education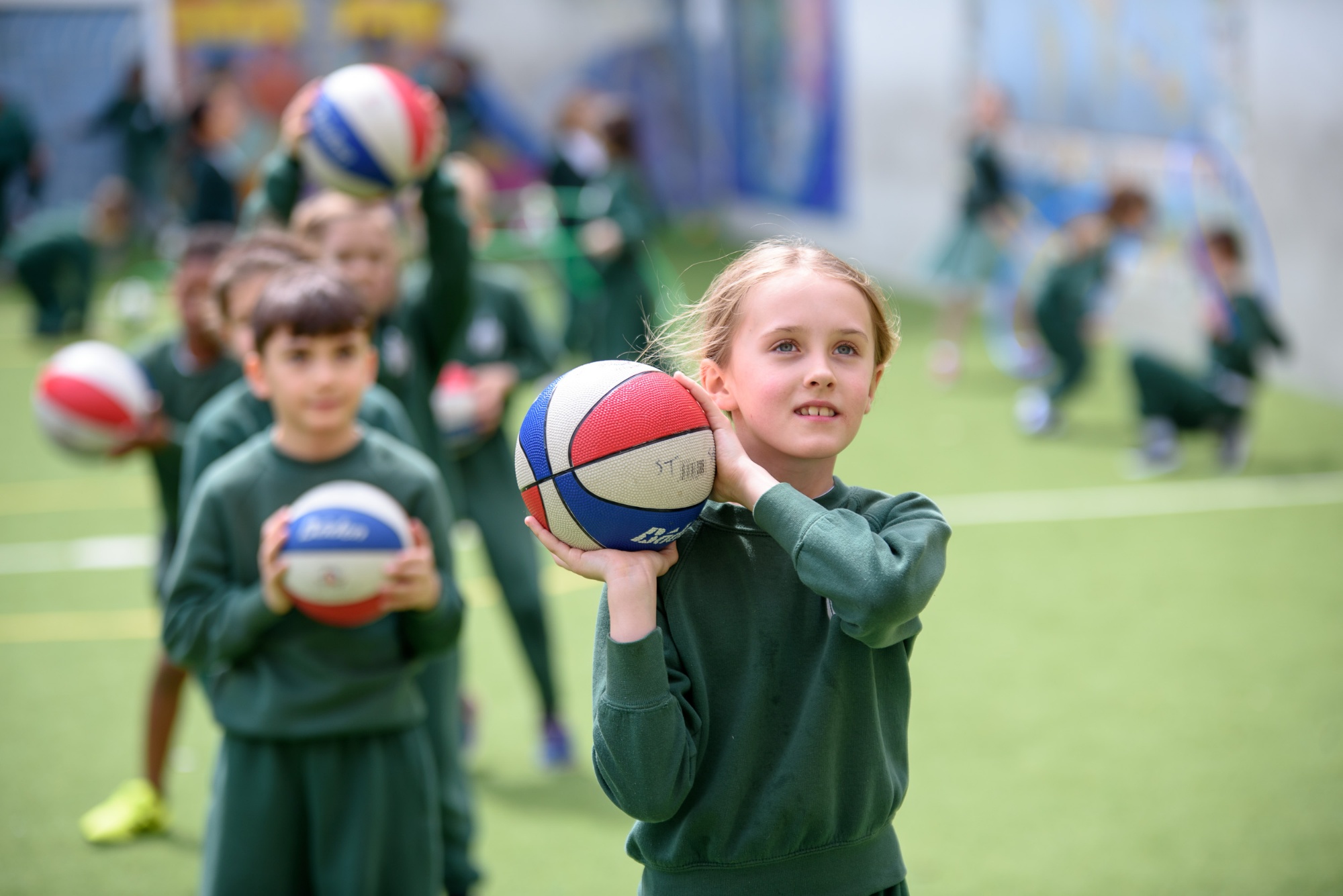 Why we teach it
Physical Education is essential for children's learning, health and wellbeing. It helps children by:
building confidence and social skills
developing coordination
improving their concentration and learning
strengthening their muscles and bones
improving their health and fitness
improving their sleep
having a positive impact on their mental health
What we teach and how we teach it
At St. Saviour's, Tuesdays, Wednesdays and Thursdays are our special days for exercise and physical education. The children have lessons in many different aspects of PE and sports, these being delivered by our PE Coach, Coach Jamie.
As well as the standard PE curriculum, the children are given the opportunity to participate and represent the school throughout a range of sporting competitions including Football, Tennis, Tag Rugby, Athletics, Cross Country and Basketball. We are proud of the many successes that our teams have achieved; the trophies in the entrance hall are a perfect testament to this. In addition some of our pupils have also gone on to represent Westminster at a regional level at the London Youth Games, a fabulous accolade for St Saviours.
In KS1 we focus on enjoyment and fun, as well as developing their A, B, and Cs; agility, balance and co-ordination. Safety and spatial awareness are other aspects of the lessons spent with Coach Jamie, allowing the children the essential time to explore and realise their own movement pattern and early potential.
As the children progress into KS2, they take part in a wide range of activities, from individual sports to competitive team games. We pay special attention to developing gross motor skills, with focus on understanding the importance of teamwork and good sportsmanship. At this level the children are introduced to the significance of good nutrition and the benefit a healthy diet has in all aspects of their school life. In Year 4, children take part in swimming lessons each week.
Click here to see the whole school curriculum overview for PE.
Both KS1 and KS2 have extra sessions to challenge and stretch those children who excel in physical activities. They are encouraged to push themselves in order test their true potential as well as refine their specialist sporting skills.
After school clubs take place for Years 1 & 2 "All Sports" as well as Years 3-6 Football clubs. All children are encouraged to participate and enjoy these extra sporting curricular activities to the fullest.