The Wider Curriculum
At St. Saviour's we embrace delivering a curriculum to our children which helps prepare them for their future lives by enriching their opportunities with exciting activities and events. Below are some of the ways in which we do this.
Special Days
STEAMco, now called Imaginarium
Every year (for the last 8 years), we turn the school over to the children for the whole day – literally. Following meetings with two parents, Mr. Nick Corston and Mrs. Jackie Schroer, we felt that we could follow the lead offered by STEAMco (seen in the public arena at Camp Bestival) and provide a day of complete creativity and freedom for the children to enjoy.
Every year over 30 parents help to turn each classroom and areas around the school into a space full of endless possibilities. These included a print room, racing snails, hug a tree experience, a clay mountain, creating furniture out of newspaper, an apothecaries' garden, a sense area, story writing, chromatography, graffiti wall, model making and animation, a solar system tepee, the world's smallest disco, noisy toys, hidden bears, flag codes and much more.
Best of all was the fact that the children were allowed to choose where they went and what they did without any guidance from adults. Some went in small groups or pairs and some decided to go on their own. Whatever the decision, the result was the same – a great time was had by everyone.
We were confident that the children would react well to their freedom but were still amazed at how well they managed. The parents and outside experts were impressed with the children, our school and the real sense of community that exuded throughout the day.
See this video made by one of our parents following Imaginarium Day 2018!
Special Weeks
Throughout the year, we hold specialist weeks and days to highlight particular subjects or activities. These range from Maths, Book Week, Expressive Arts, Online Safety, Science, Healthy Schools and Faith Days. We aim to hold at least one 'specialist' week during each Half Term.
During these weeks, the children have focused activities which emphasise the particular subject. For example, during Maths week, each class has to come up with a business plan to raise money for classroom equipment. They present these ideas to Ms. Woodford during a special assembly and then, if it is deemed to be a good plan, they are given a loan of £10. This is used to buy the materials or ingredients needed to make items for sale during the Maths Week sale. After this, the class has to present a full account of what they have spent and earned as well as how much profit they have made – after they have paid back the £10 they initially borrowed. The class that raises the most money is awarded the Maths Challenge Trophy. All money raised is used by the children to buy equipment of their choice for the classroom.
Science Week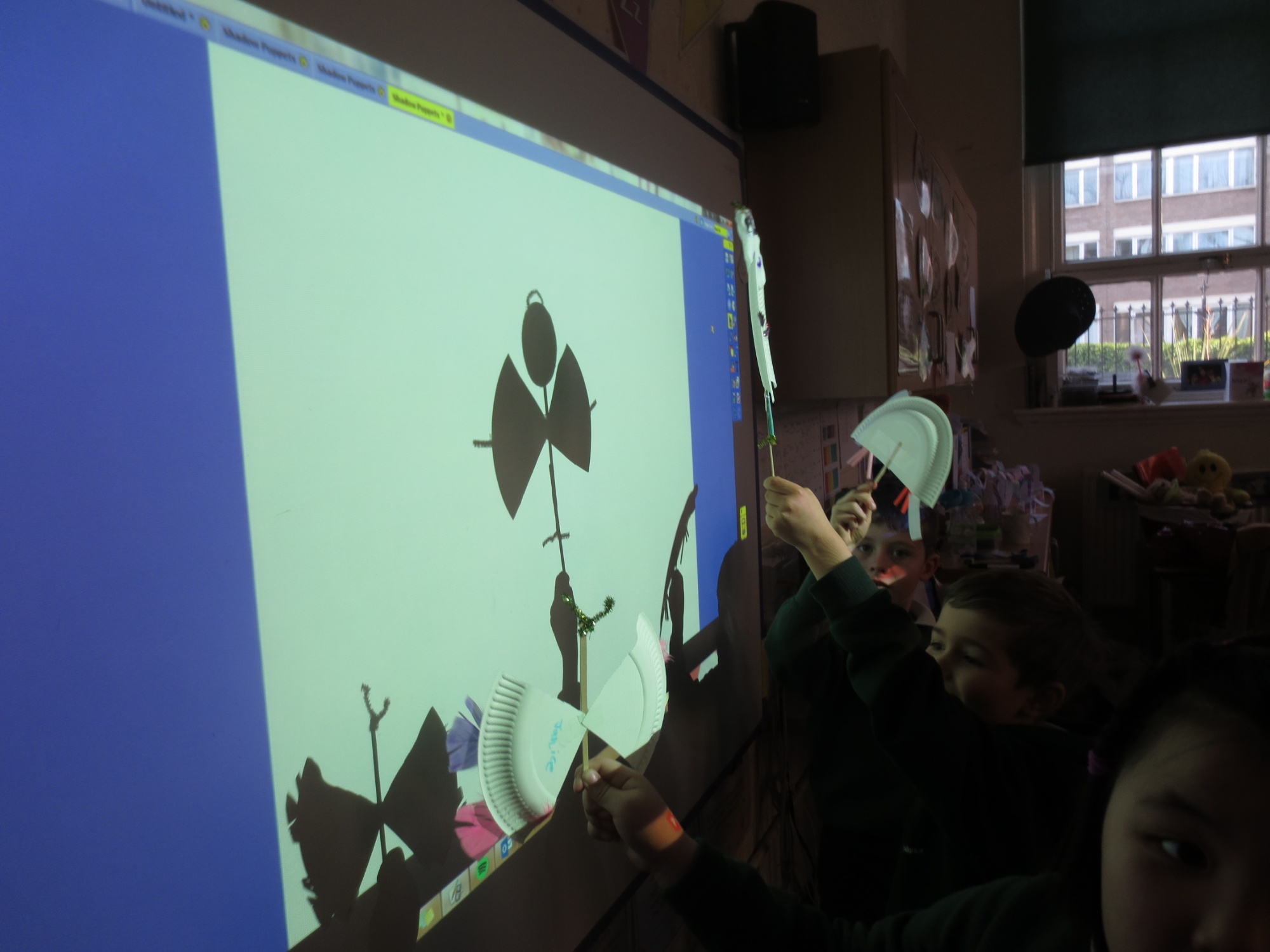 Science week always proves hugely successful due the excellent organisation of Mrs Daly. There are always lots of experiments and explosive activities for the children to enjoy!
During every Science week we hold a 'Science Fair' where children can choose their own Science topic or theme and create a 'stall' to showcase their learning of this area. This is very popular and the children enjoy visiting each other's stalls to find out more scientific knowledge and facts.
We also introduce the concept of being mindful, to help aid Mental Health Awareness. We teach breathing techniques and perform super brain yoga, as well as introduce meditations. Children are taught about how to develop a Growth Mindset.
Maths Week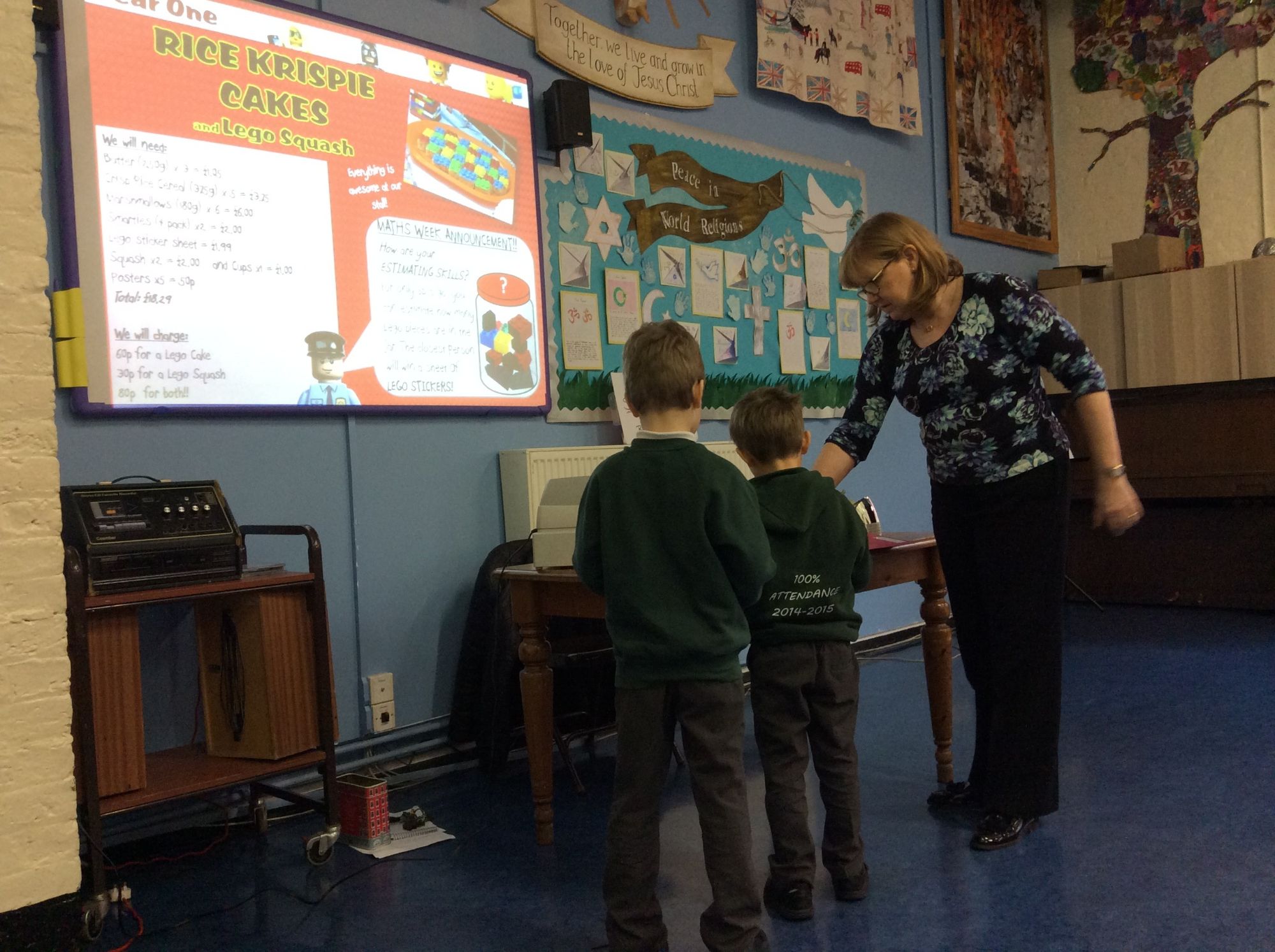 Maths Week is always a very exciting time for the whole school! All classes participate in a range of mathematical activities, with 'using and applying maths' as our key focus.
The children enjoy being taught by a different teacher during Class Swap as well as interacting with family members on Math's Afternoon. The Key Stage Maths Quiz is an exciting time for all.
The whole week builds up towards the highly anticipated Business Challenge, where each class must present to Ms Woodford their proposal for a Business Idea. On Friday, we invite children and parents to visit the Hall where a sale takes place of our products. We must then find out our total profit and the winners are revealed the following week. All classes get to keep their money and put it towards resources of their choice!
Book Week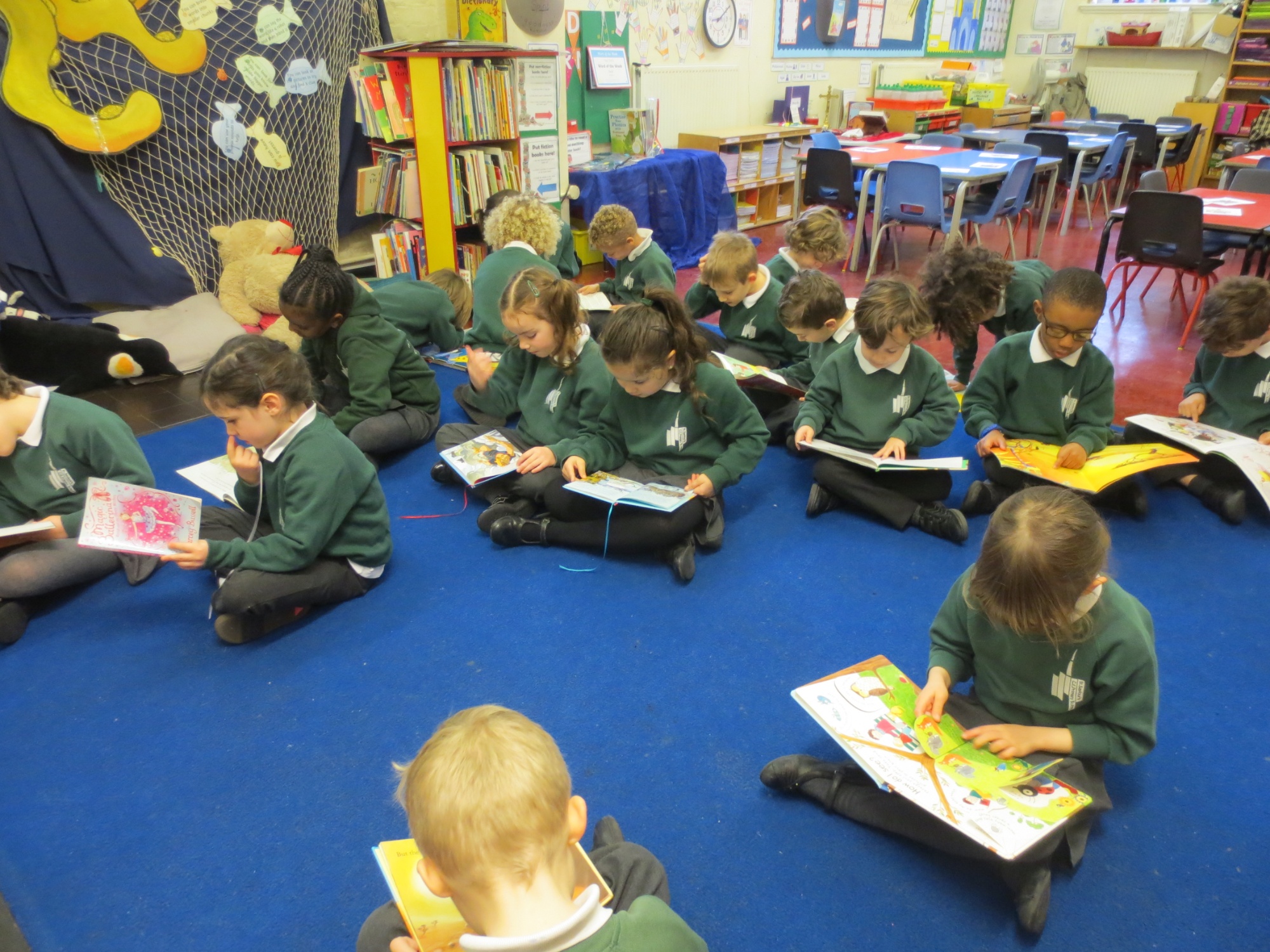 We always have an amazing Book Week, thanks to the organisation of Mrs Scott. Each year, we have a different focus, whether it be a whole school text or a specific author. Each class then explores this is creative and imaginative ways.
During the week, parents are invited to come and read with their children, which they really enjoy. We also hold a Poetry Slam, where KS1 and KS2 children can perform a poem of their choice. Our Drama teachers also help to put on 'A Play in a Day', which children perform at the end of the day. The Book Fair is open after school for parents and children.
Friday is always our annual World Book dress up day! We always have a whole range of imaginative costumes based on Classic Children's Books.
Computing Week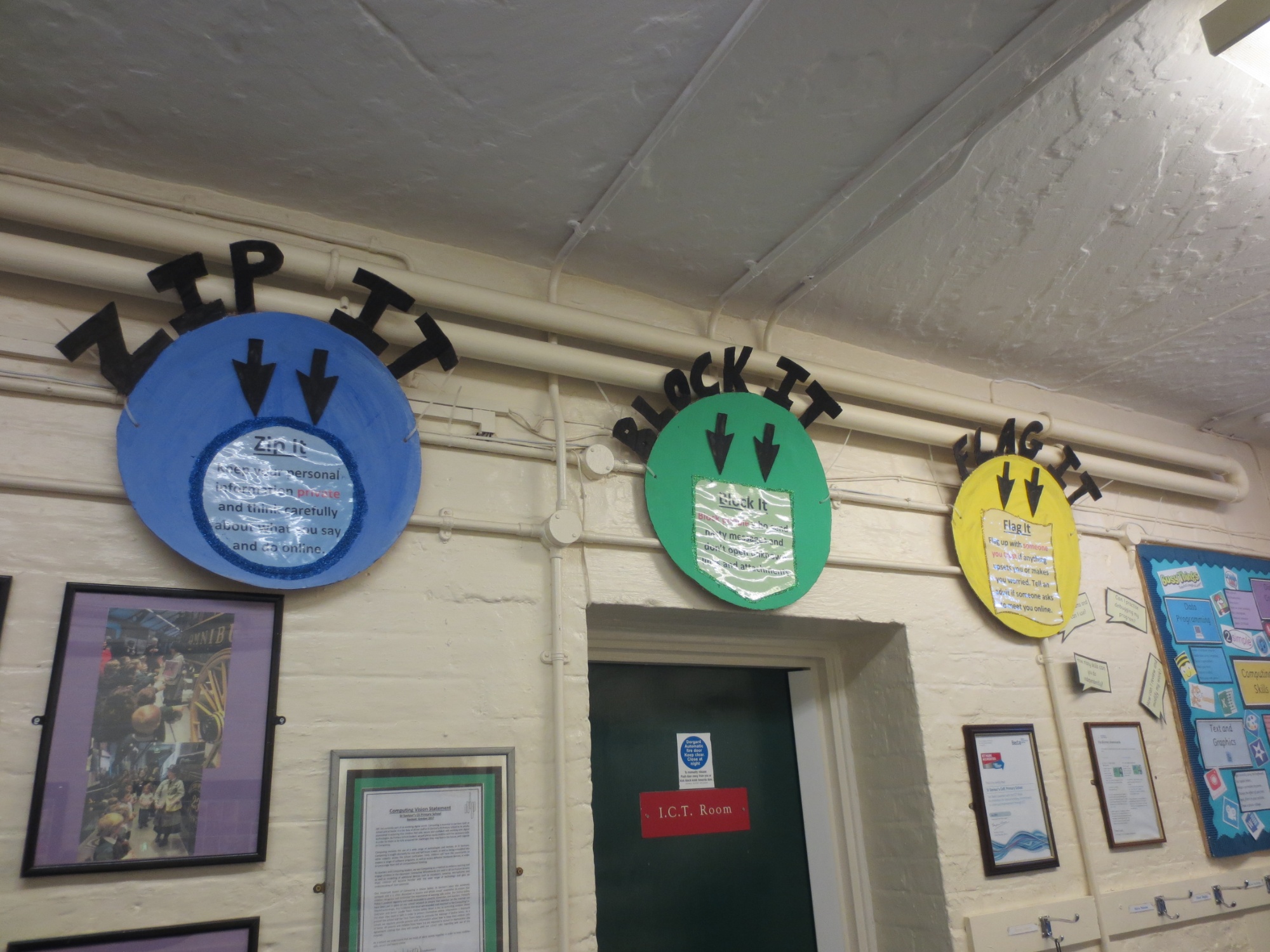 Computing Week is organised by Miss Cornelius. There is always a different theme which allows children to explore 'Online Safety'. So far, we have covered the importance of keeping personal information safe, cyberbullying and 'Fake News'. All classes are made strongly aware of the potential risks using technology, and this is achieved through the use of videos, guest speakers, workshops and class Computing lessons. There are also numerous Computing trips organised for this week, such as the very popular Year Five trip to the Apple Store!
Expressive Arts Week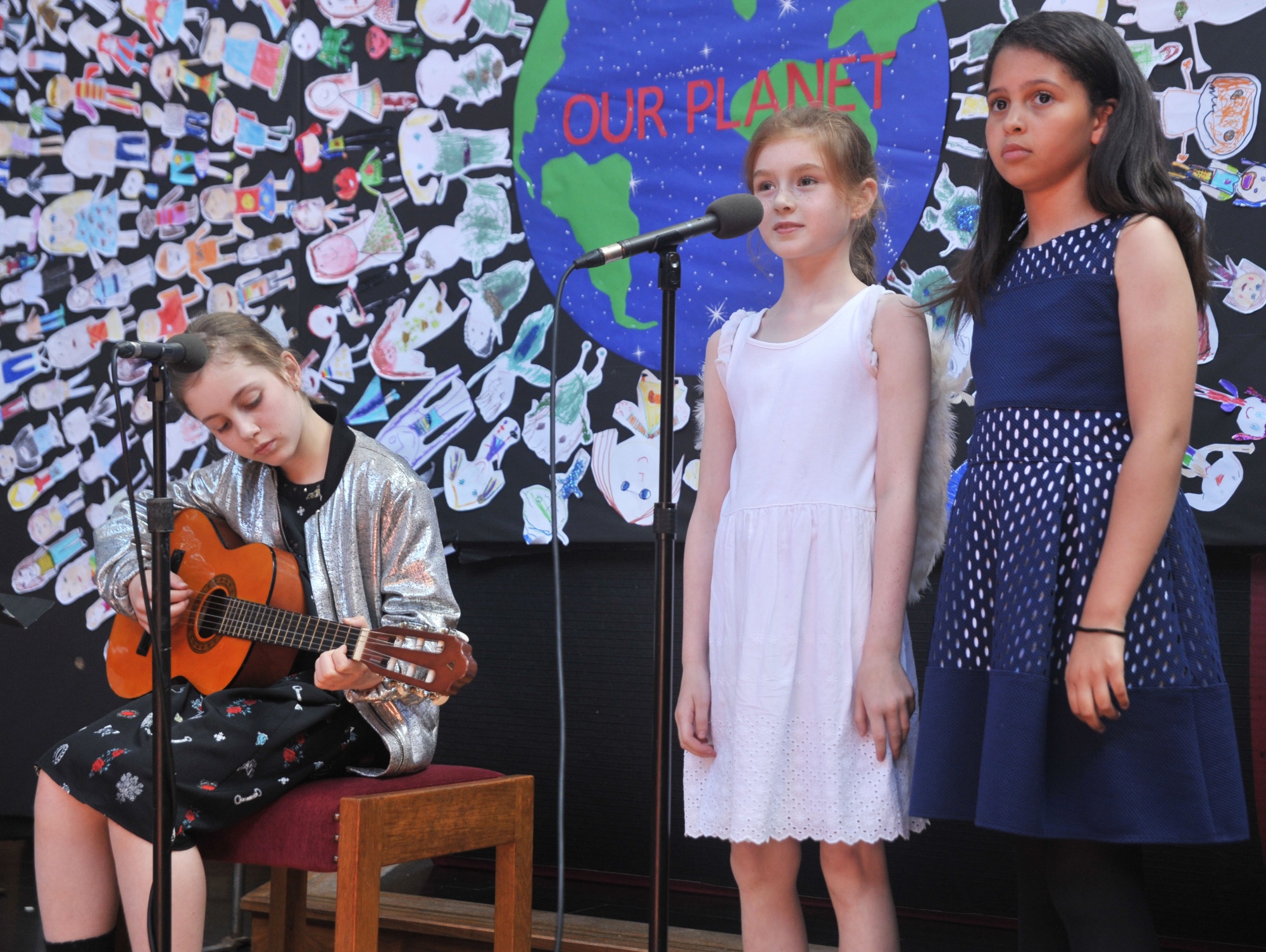 Expressive Arts Week, organised by Miss Hodgson, is always a momentous occasion. There is a whole school theme where children then explore by engaging in a variety of theatrically inspired arts activities including singing, choreography and dance, improvisation, script work, painting, designing and lots more! At the end of the week, children from KS1 and KS2 perform at our Expressive Arts Concert. It is a true celebration of talents and an opportunity to showcase the many skills our children have at this school.
Outdoor Adventures
To help the children develop further their physical education and awareness skills, children in KS2 are offered courses in swimming and cycling.
Year Four starts off the adventures with a weekly swimming lesson in Paddington Basin. They are taught basic swimming skills and aim to achieve the required 25M certificate by the end of the year.
Year Five learn how to ride their bikes safely in the playground over a two week course usually in March. Trained instructors from the Westminster Road Safety Unit work show them how to ride and manoeuvre their bikes safely and with awareness of others on the road. If they reach a certain standard, then on the last day of the course, children and instructors go out onto quiet roads surrounding the school for some on-road training.
We used to be able to offer our Year Six children the opportunity to have an eight week horse riding session in Hyde Park. Unfortunately, at the moment we are unable to provide this, but are looking for alternative options.
Residential Trips
We believe that Residential Trips are an excellent way to widen our children's learning, thinking and development skills. It helps to widen their horizons to places they may never visit and also develop their personal relationships and social skills with their friends.
From Year Four, children attend a residential trip in each of the remaining classes in Key Stage Two.
Year Four make a pilgrimage to the Holy Shrine of Our Lady in Walsingham Norfolk. They stay for one night in a special residential centre and learn more about pilgrimages and faith journeys, the life of a pilgrim in medieval times and managing what may be the first trip away from home.
Year Five go to Sayers Croft in Surrey for a three day trip to study rivers and water as well as outdoor skills such as building shelters and baking potatoes on an open fire.
Year Six have a week long residential trip to either a PGL or Kingswood adventure centre where they learn many outdoor skills and enjoy the company of their friends. Good fun is always had by all!
After School Clubs
We run an extensive after school club scheme which is open to all children in Years One to Six. An application form will be sent home at the beginning of the year with the list of all the clubs available. This is a very exciting time and the club registers fill up very quickly! Places are allocated on a first come, first served basis.
Most clubs are either for KS1 or KS2 but the main aim of all of them is to have fun whilst learning new ideas. Staff choose which club they would like to run and an application form is eagerly awaited in early September. Mrs. Pearman and Ms. Woodford administer these clubs and there is a charge for each club attended. Costs vary depending on whether the club is run by a teacher or an outside leader. Some of the clubs that are on offer at the moment are: Coding, Board Games, Arts and Craft, Football, Hockey, Mindfulness, Yoga, All Sports, DLC (Dominoes, Lego and Construction) Club, Spanish, Choir and many more.
Staff at St. Saviour's School help run an amazing number of After School Clubs, which run throughout the week from 3:30p.m. to 4:30p.m, except for Football Training and Football Squad which runs from 3:30 to 5:00pm. These cover a wide range of subjects and interests and children from Year One can apply to become a member of a club and this is usually done in September.
The money that we raise is used to buy additional equipment for the school as well as raise money for our Specialist Art, Music and PE Teachers. Parents can choose to pay weekly or in advance.
If your child is interested in joining a club, please speak to Mrs. Pearman who will let you know about places and waiting lists.